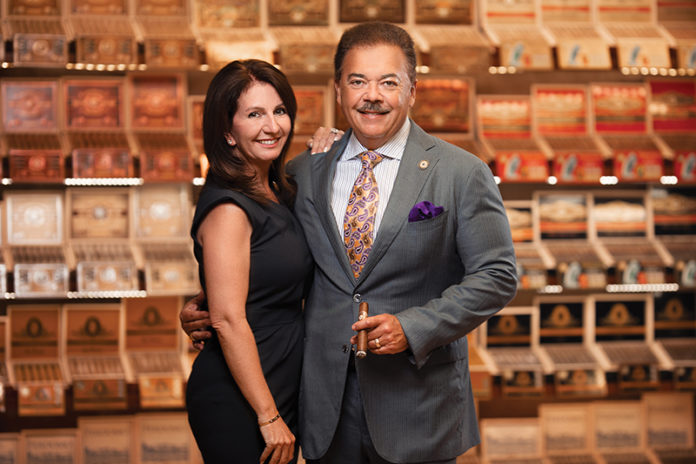 Janine Perdomo is a powerful force in the cigar industry. Born in New Jersey to parents of Irish and Italian descent, she has spent most of her life in Florida, where she met her husband, Nick Perdomo Jr., at 18 years old. A year later, they were married and inseparable. Janine isn't just married to a premium cigar brand owner—she's a vital part of the business and has been since the company first launched in 1992.
"I truly enjoy what I do in our business," she says. "I love being involved in all aspects of our business. I focus on inventory management, account maintenance, FDA [U.S. Food and Drug Administration], compliance, social media and much more. We have always put our family first—everything we do revolves around them, and everything we do is for them. Your family is what you leave behind—they are a part of you, and this is our legacy."
Janine is a recognizable figure in the industry, and her role in taking Perdomo Cigars from its humble beginnings to one of the largest family-owned cigar brands today hasn't gone unnoticed. When the nomination period opened for the 2020 Tobacco Business Awards, other manufacturers, retailers and consumers let it be known that if there were to be a Woman of the Year, Janine had to be included. By the time the final vote had been cast, Janine won the award by a landslide, showing the respect, admiration and love she has garnered over the years while working diligently alongside her family at Perdomo Cigars. As her Instagram handle—@PerdomoMama—implies, she's not just the matriarch of her family but also a mother figure to many in the premium cigar industry.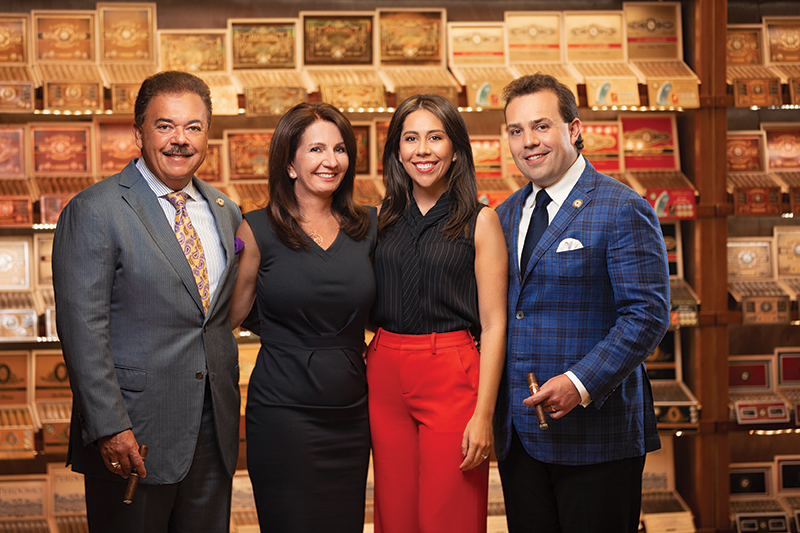 "My mother's the rock of our family; she's the glue," says Nicholas Perdomo III, Janine's son. "Back in 1992, my father wanted to start a cigar company, and we started out of a garage in Hialeah, Florida. He wanted to follow the legacy of my great-grandfather and my grandfather. My family thought he was nuts! He had a great job—he was an air traffic controller. He had a good salary, great benefits, and the only one who supported him fully was my mother."
Tobacco Business caught up with Janine Perdomo and discussed her experiences in the premium cigar industry, including the early days of Perdomo Cigars, the role of women in the tobacco industry now and her business advice that everyone in the industry can benefit from.
Tobacco Business: What were your initial thoughts about your husband launching a premium cigar business?
Janine Perdomo: I was always supportive of any undertaking Nick has ever taken. He always was looking at ways to better himself and our family. I immediately fell in love with the cigar business. I had worked in the construction industry prior—another male-dominated industry—and I much preferred the cigar business. I was excited to start a business and be able to spend more time together with my husband, who was working as an air traffic controller at the time. We work well together; we complement each other. It was truly a perfect recipe for a business. I remember riding around in our minivan and trying to decide what to name our new business. Nick had suggested J & N Cigars, using our initials. I told him that I preferred Nick's Cigar Co. As much as I liked the idea of having our names together, I knew that in a male-dominated industry the name Nick would be well-received and liked. As a result, Nick's Cigar Co., later renamed Perdomo Cigars, was born.
What were those early days of Perdomo Cigars like?
What obstacles were overcome to get the business going? The early days were hard but exciting. There was only one way to go, and that was up! We started our business at zero: in our garage, no finance, no customers. We would call people from the phone book and the 1-800 directories. We were so young and excited about building our business. We would sit up late at night banding cigars and shrink-wrapping boxes. I focused on the billing aspect mostly, and Nick concentrated on the sales and production. I would write our invoices on triplicate forms before computers were popular. Everything was documented by hand and in ledgers. Demand was high during this time; it was the Cigar Boom. It was hard meeting the demand and getting tobacco, boxes, etc., but, little by little, we grew.
I remember in our garage that we converted a portion of it into a play area for Nicholas. We had boxes stacked in a corner up to the ceiling. I wasn't too crazy about them being there, and I remember as clear as day Nick putting his arm around me and saying, "You see those boxes? When you look at them, picture them as cases of sold cigars, because that is what they are." He was right. Nick was always focused and on-task. His vision and determination were infectious. I decided right there and then that I would do whatever it took to make his dream and passion become a reality.
From day one, Perdomo Cigars has been a family-run business. As the matriarch of the family and a vital member of the business, how do you keep work and family life separate?
Since Nick and I both have vital roles in the business, talking about work is never a problem or issue because we love it. We now take more time to travel, which we didn't do before because of the kids. Even on our trips, no matter where we are, we still promote our business. It truly is never-ending but an absolute pleasure. We enjoy spending time with our children, which now include a new daughter-in-law and son-in-law. We normally have a family dinner once a week. We try to take at least one family vacation a year together. You will find us all together at the annual trade show. Our children and their spouses love the business too. We are very blessed to share this all with them.
There's a lot of love and respect for you from the industry, as is apparent in the results of the Tobacco Business Awards voting this year. Can you talk about your role as the company's chief operating officer and other responsibilities within the business?
I am so honored that people would even nominate me. I respect the people in our industry so much. It is a passion for all of us. And it is a close-knit circle. I focus on all aspects of the business. I predominantly focus on the internal operations side: financial management, account management, inventory management—we have a bonded warehouse—FDA compliance, social media, as well as many other tasks. I love to be involved in everything.
There is no job too big or small. I love to be a part of the evolution of our business in every department. We continue to grow and evolve every day. We never rest on our accomplishments. We are always looking to improve and grow. In addition to making the very best product, our focus is to be more in touch with our customers as well as the end consumers. We want them to learn more about us and our business. We are launching our Perdomo YouTube channel with great interviews and content. Our customers and the end consumers are the lifeblood to our business; without them none of this is possible. They are our Perdomo army!
When it comes to your career, what do you attribute your overall drive and motivation to?
My drive came from my youth. I have always worked. Besides babysitting for the neighbors, my first paycheck was from a small local Chinese restaurant. I started out washing dishes by hand. They liked the way I worked so much that they promoted me to waitress at the age of 15—by the way, there aren't many American waitresses in Chinese restaurants. I always enjoyed feeling self-sufficient and capable of earning my own money. At the age of 18, I was running the office of a heavy equipment rental company. I had always wanted to go to college, but this was not a reality for me. I started to attend with a scholarship I had won, but the money ran out and then life got in the way.
Shortly after, I got married. I always thought I would go back to school, but then desires change. I have gone to the school of hard knocks. I have worked with the best of the best in accounting, sales, law, marketing, etc. I have firsthand experience of practical work. Although I didn't finish my college education, I am proud that Nick and I were able to provide a wonderful college education for our children. Our children have always been our motivation. I often say that our family is a team. There is no "I" in team. Sometimes one team member will contribute more than the other, but it doesn't matter because it is all for the benefit for the team.
My husband has always motivated me in many ways. He has made me strong, to believe that mountains can be moved, and that with persistence and dedication anything is possible. I am forever indebted to him for this lesson. I am very motivated to provide our customers with the very best because they deserve it. This is what gets me out of bed every day. I am also motivated to do the best I can because of my faith. I truly believe God has blessed us and our company because we implement the Golden Rule: "Do unto others as you would want them to do unto you." This has been our company's mission statement from day one. We apply this to our customers and employees. And I must tell you, God is and has been so good to us.
Having spent so many years seeing the industry evolve and grow from within, how have you seen the role of women change in the tobacco industry over the years?
Times sure have changed! When I first started in the business, I remember Diana Gits, the owner of Up Down Cigars and the Diana Silvius cigar brand. She was tough and determined. She had thick skin. I admired her for her strength and determination. Compared to her, I had it easy.
Although, in the beginning, men really did not think women knew anything about cigars or tobacco. Thankfully, the mindset has changed and will continue to do so. Women have so much to offer in this industry, and I look forward to the future generations of women who will continue to carry the torch and blaze our trail. The future is bright with the women I see in our industry. I am proud to stand alongside them.
What's the best piece of business advice you've received and who gave you this advice?
The best piece of business advice I have received may sound trite and simple, but it has resonated throughout the years with me. It was given to me from our dear friend and second dad, Lonnie Schwartz. When we started to grow our company, I wanted to invest in other businesses. He sat me down and said, "Stick to what you know." Sounds simple, but it is so true. People get involved in businesses they have no idea about—and often lose or fail. What we did was keep reinvesting in our business. We know how to be successful in our business, so why would I try elsewhere by starting from scratch? Truly, this was very good advice at a very pivotal time in our life and in our business.
What's the most important lesson about work and/or business that you've tried to pass on to your children? The most important lessons we have tried to pass on to our children is to never, ever give up, and always put family first. I have always had these little sayings I would repeat to them. For example, "Life is 90 percent attitude—sometimes you will not enjoy what you're doing, but do it with a good attitude and you will enjoy anything you do." The other one was, "Whatever you do is a reflection of you and our family, so do it to your best ability so others will see that you are great, and your family is too." I think that Nick and I have set good examples of hard work to our children by our lives, our actions. Our lives have always revolved around our family and our work. But our business was like the big brother to them. We all loved our business and nurtured it like one of our children, and [our children] Nicholas and Natalie love the business too.
How do you define success?
I define success by the happiness and contentment inside a person. It doesn't matter how big your business is, how much money you have in the bank, if you succeed or fail. The question you must ask yourself is, "Are you happy, and what gives you this happiness?" As for myself, my happiness and success come from God and my family. I can live without anything in this world but them. If I have these, I am successful.
As the recently awarded Woman of the Year, what is your advice to other women working in the tobacco industry?
What an honor to receive this award! I never imagined that the shy girl from North Lauderdale would one day win such an honor. I am beyond humbled. My advice to the women in our industry is to work hard. The harder you work, the luckier you will get. Never get discouraged by others trying to kill your dreams or abilities. Stay focused on your goals and strengths, and keep your eyes fixed there. There are ups and downs in every business, but remember that tomorrow is another day, and with consistency and hard work your dreams can come true. Don't focus on popularity; focus on your product and customers. They should be your motivation and what propels you to be your best every day. And find a good partner in life—this makes the ride that much sweeter.
This story first appeared in the March/April 2020 issue of Tobacco Business magazine. Members of the tobacco industry are eligible for a complimentary subscription to our magazine. Click here for details.
– Story by Antoine Reid, senior editor and digital content director for Tobacco Business Magazine. You can follow him on Instagram @editor.reid.