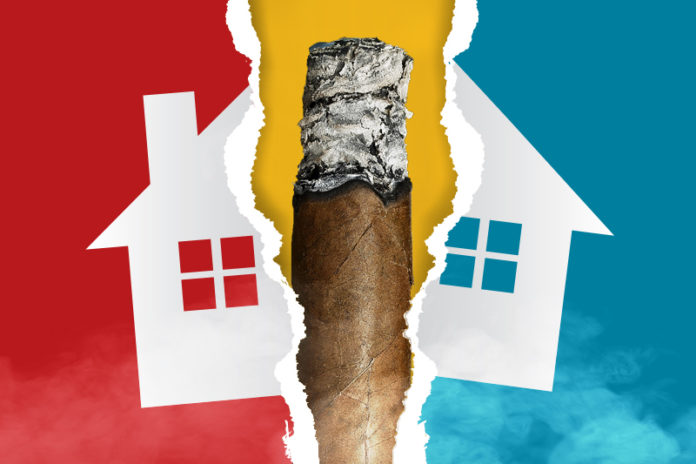 "Will you be there?" It's a simple question that is sparking a lot of debate and opinion if you ask anyone in the cigar industry. 2020 is turning into one of division and high emotion with the industry's leading trade show serving as ground zero of a growing situation gripping the cigar category–can the premium cigar survive and beat the obstacles its facing if it's so divided?
This started on Jan. 10, 2020 when four large premium cigar manufacturers–Altadis U.S.A., Davidoff, General Cigar Co., and Drew Estate–all announced that they would not be exhibiting at the Premium Cigar Association (PCA) 2020 trade show and international convention [read more here]. Kretek International, the parent company of Tobacco Media Group (TMG), publisher of Tobacco Business Magazine, also announced that it would not exhibit at PCA 2020 due to concerns with the direction of the trade organization [read more here]. These companies have typically had a large presence at the PCA trade show, formerly known as the International Premium Cigar & Pipe Retailers (IPCPR) trade show, and contributed to the show through additional sponsorship. These companies named several reasons for their decision, including yearly declines in quality, rising costs associated with exhibiting, and not having more input on the overall structure, organization and value of the trade show [read more here].
Family-Owned Companies Speak
The PCA responded with its own press release, assuring the industry that the 2020 trade show already had 110,000 square feet of space booked by hundreds of "family-owned companies" and that the four companies that pulled out of the coming year's trade show only represented 12 percent of the show space. The phrase "family-owned" appears throughout the PCA response, drawing attention to the fact that those companies that had announced their decision not to exhibit were larger manufacturers owned by larger entities rather than by a family, as seen in many cigar companies.
This theme of "family-owned" resonated, sparking a number of press releases from other companies announcing whether or not they would be exhibiting at PCA 2020. Alan Rubin, founder and president of Alec Bradley Cigars, posted a message on Facebook on Jan. 10, 2020, stating, "Alec Bradley is in full support of the Premium Cigar Association and will be attending the upcoming show. We are excited to show everyone new products that we will be coming out with this year!" Other companies also released their own statements, including Arturo Fuente, who stated that it would participate in PCA 2020 and that, "Our commitment to retailers is a core value of our company and family, one that will never waiver …. We truly believe that members of the PCA are an extension of our family, and the annual trade show is the single most important event in keeping our families strong and successful." You can read Arturo Fuente's full statement by clicking here.
J.C. Newman Cigar Co. also released a statement announcing their participation at PCA 2020 and how the show supports retailers. "As America's oldest, family-owned, premium cigar manufacturer, we are proud to say that we attended the very first RTDA trade show in 1933 and have attended every RTDA/IPCPR/PCA trade show since then. This year will be now different. Throughout the many ups and downs in the cigar industry, the trade show is the one time of the year family-owned cigar manufacturers and brick & mortar retailers come together to discuss ideas to further our business and protect our industry. Given the many regulatory and legal challenges that manufacturers and retailers are facing today, the show is more important and relevant than ever."
Gurkha is another company that has exhibited at what is now the PCA trade show for more than 25 years. It released its own statement on Jan. 14, 2020, announcing that it would be exhibiting at the 2020 show and how the show offers them and retailers the opportunity to come together discuss the future of the industry. "This year Gurkha will be an anchor exhibitor with one of the largest booth spaces at the show. Our commitment and support of the show has grown consistently over the years as has our commitment to brick and mortar tobacconists."