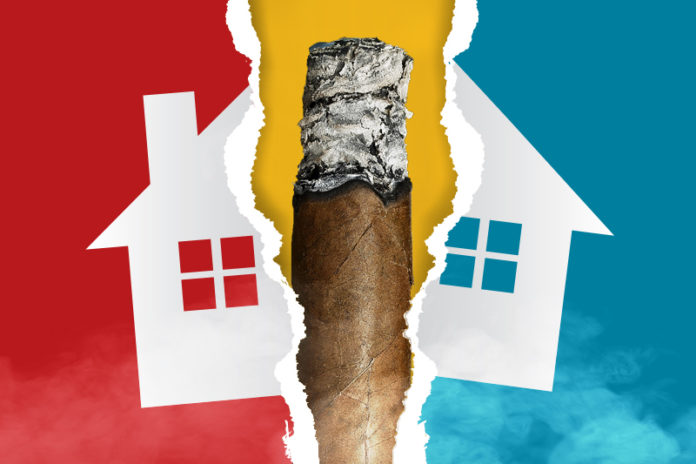 "Will you be there?" It's a simple question that is sparking a lot of debate and opinion if you ask anyone in the cigar industry. 2020 is turning into one of division and high emotion with the industry's leading trade show serving as ground zero of a growing situation gripping the cigar category–can the premium cigar survive and beat the obstacles its facing if it's so divided?
This started on Jan. 10, 2020 when four large premium cigar manufacturers–Altadis U.S.A., Davidoff, General Cigar Co., and Drew Estate–all announced that they would not be exhibiting at the Premium Cigar Association (PCA) 2020 trade show and international convention [read more here]. Kretek International, the parent company of Tobacco Media Group (TMG), publisher of Tobacco Business Magazine, also announced that it would not exhibit at PCA 2020 due to concerns with the direction of the trade organization [read more here]. These companies have typically had a large presence at the PCA trade show, formerly known as the International Premium Cigar & Pipe Retailers (IPCPR) trade show, and contributed to the show through additional sponsorship. These companies named several reasons for their decision, including yearly declines in quality, rising costs associated with exhibiting, and not having more input on the overall structure, organization and value of the trade show [read more here].
Family-Owned Companies Speak
The PCA responded with its own press release, assuring the industry that the 2020 trade show already had 110,000 square feet of space booked by hundreds of "family-owned companies" and that the four companies that pulled out of the coming year's trade show only represented 12 percent of the show space. The phrase "family-owned" appears throughout the PCA response, drawing attention to the fact that those companies that had announced their decision not to exhibit were larger manufacturers owned by larger entities rather than by a family, as seen in many cigar companies.
This theme of "family-owned" resonated, sparking a number of press releases from other companies announcing whether or not they would be exhibiting at PCA 2020. Alan Rubin, founder and president of Alec Bradley Cigars, posted a message on Facebook on Jan. 10, 2020, stating, "Alec Bradley is in full support of the Premium Cigar Association and will be attending the upcoming show. We are excited to show everyone new products that we will be coming out with this year!" Other companies also released their own statements, including Arturo Fuente, who stated that it would participate in PCA 2020 and that, "Our commitment to retailers is a core value of our company and family, one that will never waiver …. We truly believe that members of the PCA are an extension of our family, and the annual trade show is the single most important event in keeping our families strong and successful." You can read Arturo Fuente's full statement by clicking here.
J.C. Newman Cigar Co. also released a statement announcing their participation at PCA 2020 and how the show supports retailers. "As America's oldest, family-owned, premium cigar manufacturer, we are proud to say that we attended the very first RTDA trade show in 1933 and have attended every RTDA/IPCPR/PCA trade show since then. This year will be now different. Throughout the many ups and downs in the cigar industry, the trade show is the one time of the year family-owned cigar manufacturers and brick & mortar retailers come together to discuss ideas to further our business and protect our industry. Given the many regulatory and legal challenges that manufacturers and retailers are facing today, the show is more important and relevant than ever."
Gurkha is another company that has exhibited at what is now the PCA trade show for more than 25 years. It released its own statement on Jan. 14, 2020, announcing that it would be exhibiting at the 2020 show and how the show offers them and retailers the opportunity to come together discuss the future of the industry. "This year Gurkha will be an anchor exhibitor with one of the largest booth spaces at the show. Our commitment and support of the show has grown consistently over the years as has our commitment to brick and mortar tobacconists."
Litto Gomez of La Flor Dominicana commented on the division growing within the industry, stating that his company would be at PCA this year but adding, "At the same time, however, I cannot ignore the sadness that overcomes me knowing that at this very moment we as an industry are facing the worst enemy in our history. This enemy is not and should not be among us, it is the FDA, and their intentions are clear; they want to destroy us. It worries me that we find ourselves to divided in such difficult and crucial times when unity is our only option for survival …. It is all of our responsibility, from manufacturers small and large, retailers, and mediate think responsibly and make every effort possible to bring this industry together. It may be our only chance to win this fight and I would hate to look back on this time some day in a heavily regulated future knowing what we were our own worst enemy and did not do everything in our power to prevent the worst from happening."
The Retail Division
The retailers involved in premium cigars are finding themselves in the middle of this division–but they also have an opinion on what's happening in the the cigar industry. Abe Dababneh, owner of Smoke Inn, posted his own statement about the current affairs of the industry, noting that it is currently fractured, and that some of the issues stem from Big Tobacco's desire not to lose market share and that it has become "easier to suffocate than innovate." He goes on to speak directly to the consumers, saying, "As you bandwagon on the backs of brands and snap your social media pictures you share so fervently across all platforms, you may want to stop and think whose kool-aid you may be drinking. There are movements being made to create a very different universe for the cigar world. A universe I believe that is not in the best interest of the consumer. I am calling out to consumers across the 50 states. Educate yourselves, become a more enlightened and cohesive community. Know whom you support. YOU HAVE THE TRUE POWER. Otherwise we may all find ourselves once again saying "How did this happen?'" You can read Dababneh's full statement here.
Another retailer, Arthur Zaretsky of Famous Smoke Shop, sees a division growing between brick and mortar retailers and the catalog/Internet retailers. This division is also apparent in many of the manufacturer announcements regarding their support of the PCA and attendance at its trade show, often calling out the importance of brick and mortar retailers and how they figure into PCA while noticeably leaving out those retailers with online commerce stores.
"The Catalog & Internet cigar business likely represents 50-70% of all box sales," Zaretsky writes. "Will the industry grow by that much if our category dies? The answer is simply 'no.' Manufacturers will have fewer outlets to sell their cigars. The collective cost of doing business will rise (i.e., FDA, regulation, excise taxes, etc.), and all of it will be passed on to the retailers – and ultimately, to the consumers. Cigar consumption will decrease as prices will double (maybe even triple) over the next five years. Rising cigar prices will not produce growth for any portion of our industry."
Zaretsky goes on to accuse the PCA of viewing the Internet retailers as their "perceived enemy," calling attention to Maryland House Bill 1301 which was passed on May 25, 2019, and required out-of-state sellers to pay the tobacco tax on certain items, a change that increased the cost of business for remote sellers like Famous Smoke Shop. Zaretsky questions PCA's intent and its current focus and direction since the organization spent resources that ultimately led to the bill's passage. You can read Zaretsky's full statement here.
A Time for Unity
The cigar industry is facing a tough year ahead as regulations and government interference continues to grow. In May 2020, cigar manufacturers will be required to file Substantial Equivalence (SE) applications, allowing them to keep products on the market as the U.S. Food and Drug Administration (FDA) reviews and approves them for longterm sell. The cost of business for many manufacturers is expected to increase, and that increase will likely result in higher prices passed on to retailers and consumers. Increased regulations could lead to many products being pulled from the market, leading to less choice in the retail market. The recent federal Tobacco 21 law removes certain consumers from the market and the increase of flavor bans could spell trouble for many tobacco products, including cigars. If ever there was a time for unity and for the industry to work together, that time is now.