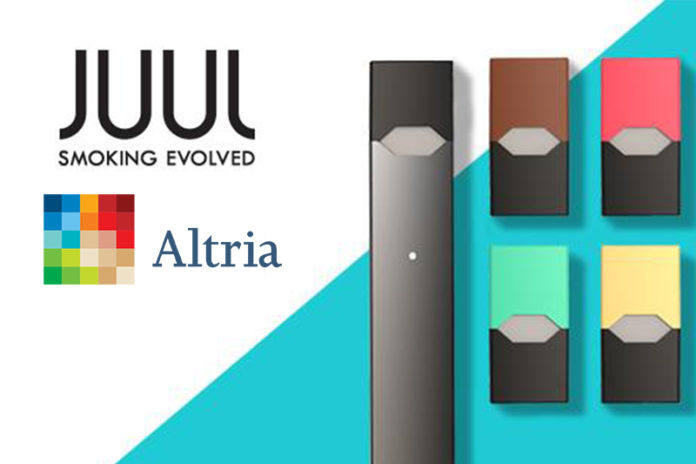 Weeks after making at $1.8 billion investment in cannabis company Cronos Group [read more here], Altria Group, Inc. continues to diversity its portfolio and further move away from traditional tobacco products with another sizable investment–JUUL.
JUUL has dominated the headlines in 2018, but not all of that attention has been positive. After being named the leading e-cigarette manufacturer in the U.S. [read more here], JUUL found itself in the crosshairs of the U.S. Food and Drug Administration that placed blamed from the growing number of teens and minors using e-cigarettes and becoming addicted to nicotine and tobacco products on the company and its products. The media and the government has even gone so far as to use the term "JUULing" to refer to the increasing popularity and use of the e-cigarette device and its e-liquid brands. In recent weeks, JUUL announced that it would be limiting the availability of some of its products to certain retail outlets with stricter age-verification practices and that it would discontinue its use of social media to market its products [read more here]. Rumors of Altria's interest in JUUL have been prevalent for weeks with today's announcement confirming that the one of the biggest tobacco companies in the world would be taking a stake in the biggest e-cigarette maker in the U.S.
Altira Group, Inc. has signed and closed a $12.8 billion investment in JUUL Labs, Inc. Altria has made an agreement to help JUUL advance on its mission to convert adult smokers to e-cigarette and vapor products by helping the company reach more smokers in retail spaces with increased shelf space, inserts in cigarette packs and giving it access to smokers in its database. Altria's investment represents a 35 percent economic interest in JUUL, valuing the company at $38 billion overall. With Altria taking a minority stake in the company, JUUL will remain fully independent.
"We are taking significant action to prepare for a future where adult smokers overwhelmingly choose non-combustible products over cigarettes by investing $12.8 billion in JUUL, a world leader in switching adult smokers," said Howard Willard, Altria's Chairman and Chief Executive Officer. "We have long said that providing adult smokers with superior, satisfying products with the potential to reduce harm is the best way to achieve tobacco harm reduction. Through JUUL, we are making the biggest investment in our history toward that goal. We strongly believe that working with JUUL to accelerate its mission will have long-term benefits for adult smokers and our shareholders."
"Altria's investment sends a very clear message that JUUL's technology has given us a truly historic opportunity to improve the lives of the world's one billion adult cigarette smokers," said Kevin Burns, Chief Executive Officer of JUUL. "This investment and the service agreements will accelerate our mission to increase the number of adult smokers who switch from combustible cigarettes to JUUL devices."
JUUL now has the option to be supported by Altria's sales organization, which covers approximately 230,000 retail location. As JUUL previously announced, it's flavored products will continue to be limited to being available only on JUUL.com. This new deal gives it the opportunity to sell its tobacco and menthol-based products alongside combustible cigarettes sold by Altria in stores where it has shelf space. This new deal gives Altria the chance to offer adult smokers with an alternative through JUUL, and gives the company yet another product outside of traditional tobacco to push as sales of combustible cigarettes continue to decline throughout the world. As part of the deal, Altria's only participation in the e-vapor business will be through JUUL as long as Altria is supplying JUUL services, which Altria is committed to doing for at least six years. Altria is also subject to a standstil agreement under which it will not acquire additional JUUL shares about it's 35 percent interest. Altria has also agreed not to sell or transfer any JUUL common shares for six years from the deal's closing. Altria will also be able to appoint directors representing one-third of JUUL's Board of Directors.
You can read more details about the deal between Altria Group, Inc. and JUUL by clicking here. For all the latest news from Altria Group, Inc., visit altria.com.