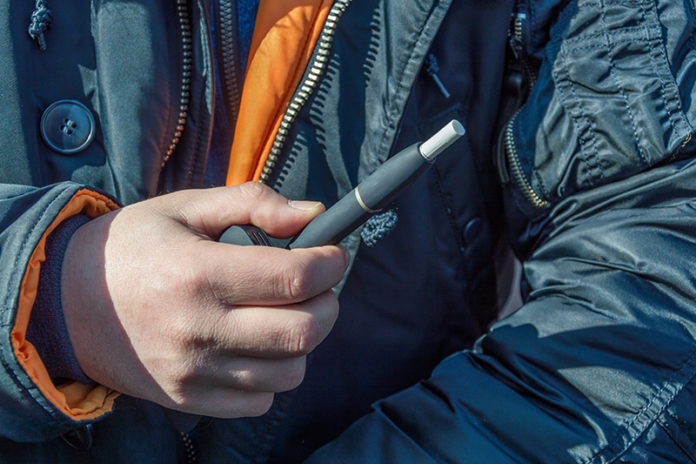 Altria has officially launched its popular heat-not-burn device, IQOS, in the U.S. with the official opening of its IQOS-branded store in Atlanta.
Altria's IQOS store opened on Friday, Oct. 4, 2019 in Atlanta's Lenox Square Mall. An employee is posted at the entrance of the store and scans the customer's identification before they can enter. Also, each customer is asked whether they are over 21 and if they smoke. If they answer no to either, they are not permitted in the store. The store is equipped with what the company is calling a "Guided Trial Room," a separate area of the store that's sectioned off behind automatic glass and doors that's equipped with a blue couch and a built-in ventilation system system. People can use this area of the store to test the IQOS device. The store features a bundled package that contains a holder and 200 heat sticks that retails for $80. This is a deal as the holder by itself costs $100. Altria has already announced plans to open another store in the Mall of Georgia in late October 2019. It will also launch mobile stores around Atlanta and some pop-up kiosks within some of its current retail partners, including convenience stores.
Atlanta was chosen by Altria for the IQOS launch due to its embrace of technology and the high population of adult smokers which the company estimates to be "several hundred thousand." The company will be monitoring the test launch of IQOS in Atlanta before expanding its availability and distribution in other cities. Altria has indicated that those expansion plans for IQOS will be rapid.
The U.S. Food and Drug Administration (FDA) authorized Altria and Philip Morris USA to market and sell IQOS in the U.S. this past April [read more here]. Altria had to agree to certain conditions set by the FDA to bring and market IQOS in the U.S. market: since IQOS is by definition still a cigarette product, it cannot be advertised on the television or on the radio; All print ads must be submitted to the FDA 30 days prior to publication; online sales must be done through independent age verification; the company must also disclose any work it does with influencers to help promote IQOS.
Altria is also required to provide the FDA with quarterly reports on its sales, including customer demographic information to help the FDA see how many smokers of traditional cigarettes make the switch to the IQOS. Altria will also need to provide the FDA with an annual report that includes a rundown of any adverse affects experienced while using IQOS. With the rising number of vaping-related illnesses, IQOS could give Altria a much-needed boost after shares of the company have fallen in recent weeks due to its ties to the vaping industry through its investment in JUUL Labs [read more here].
For all the latest news from Altria, visit altria.com.