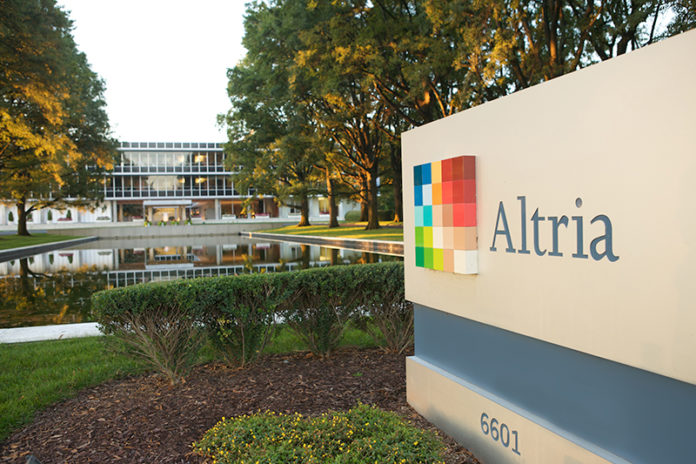 Altria Group, Inc. has announced its 2020 second-quarter and first-half business results and reestablished its 2020 adjusted diluted earnings per share (EPS) guidance.
In the report, Altria reported that it had net pre-tax charges of $50 million that were directly related to costs for disruptions caused by, or brought on by efforts to mitigate the impact of, the COVID-19 pandemic. The pandemic has had some impact on Altria's business, including forcing the temporary closure of the Philip Morris USA IQOS boutique stores in Atlanta and Richmond, both which reopened in June. The company reports that Altria's tobacco businesses have not experienced any material adverse effects associated with governmental shut downs. Many retail outlets that carry Altria products, such as convenience stores, have been able to remain open during the pandemic due to being classified as an essential business. Other factors brought on by the pandemic, including unemployment rates, consumer confidence and even gasoline products present themselves as potential risks.
Billy Gifford, Altria's Chief Executive Officer, issued the following comment within the report: "Despite the challenges of the COVID-19 pandemic in the U.S., our employees continue to execute against our 10-year Vision with strong focus and commitment. Over the first-half of 2020, we believe Altria showed resilience in volatile market conditions, growing adjusted diluted earnings per share by 8.5 percent, driven by the outstanding financial performance of our core tobacco businesses. We've also hit key milestones and made steady progress behind our noncombustible product portfolio. With a better understanding of COVID-19 impacts on adult tobacco consumer purchasing behavior and an additional quarter of ABI earnings contributions, we're reestablishing full-year 2020 adjusted diluted EPS guidance."
Sal Mancuso, Altria's chief financial officer, "We're pleased to announce that yesterday, our Board declared a quarterly dividend of $0.86 per share, representing a new annualized dividend rate of $3.44 per share and an increase of 2.4% from the previous annualized rate of $3.36 per share. This dividend increase marks the 55th dividend increase in the past 51 years,"
Since the U.S. Food and Drug Administration (FDA) authorized the heat-not-burn device IQOS to be marketed as a modified risk tobacco product with a "reduced exposure" claim [read more here], Philip Morris USA launched IQOS in Charlotte, North Carolina, after opening a new boutique–with COVID-19 safety precautions in place. According to the report, the company expects HeatSticks to be sold in more than 700 retail stores across Atlanta, Richmond and Charlotte by the end of August. Altria also has plans to expand IQOS to four additional markets as well as partnering with trade retailers to make IQOS devices more broadly available and expand HeatStick distribution in surrounding geographies of the seven lead markets.
Altria also provided an update on on!, its oral nicotine pouch product sold through its subsidiary Helix. PMTAs have been submitted to the FDA for all 35 on! SKUs and these are now undergoing scientific review. Helix now expects to reach 50 million cans in annualized manufacturing capacity by the end of 2020 and continues to expect to remove capacity constraints in 2021. Helix also expanded distribution of on! Into 40,000 stores at the end of the second quarter, a nearly 43 percent from the end of the first quarter.
When looking at the full-year guidance for 2020, Altria expects its diluted EPS to be in a range of $4.21 to $4.38, representing a growth rate of 0 to 4 percent from an adjusted diluted EPS base of $4.21 in 2019. Altria is also revising its 2020 estimated full-year domestic cigarette industry adjusted decline rate to be in a range of 2 percent to 3.5 percent from a range of 4 percent to 6 percent based on better year-to-date industry performance and expectations for continued category resilience. Altria expects its 2020 full-year adjusted effective tax rate to be in a range fo 24 percent to 26 percent.
You can read Altria Group's full second quarter report by clicking here. For all the latest news from Altria Group, visit altria.com.