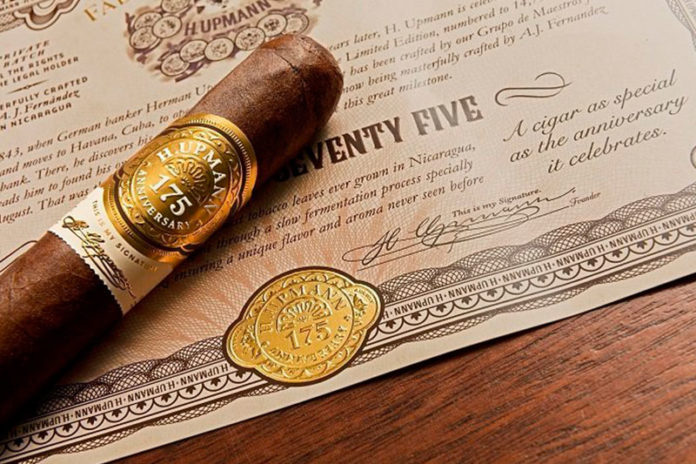 Altadis U.S.A. is celebrating a big milestone–its H. Upmann cigar brand is turning 175 years old. To mark the occasion, Altadis U.S.A. has announced the upcoming release of the limited-edition H. Upmann 175th Anniversary cigar, which will commemorate one of the oldest and most renowned cigar brands.
"H. Upmann is one of the most storied cigar brands," says Candela Diaz, brand manager for H. Upmann. "It was impossible to pass up an opportunity to commemorate this brand that embodies brotherhood and love of tobacco. We look forward to unveiling the H. Upmann 175 at the 2019 IPCPR in Las Vegas."
It was in 1843 when German banker Herman Upmann uprooted his life and moved to Havana, Cuba, to open a branch of his family's bank. He created a small batch of cigars for his best clients, but quickly became inspired and impassioned with tobacco. That passion led to him launching his own cigar brand in 1844 with the help of his younger brother, August. The two brothers purchased a small cigar factory and learned how to combine tobacco artistry and German ingenuity. 175 years later, the H. Upmann brand is still known in Cuba and around the world.
The H. Upmann 175th Anniversary cigar will only be available in a Churchill size and will come in 10-count boxes with only 14,750 being produced. Fifty special edition humidors containing 50 cigars will also be offered. For this special project, Altadis U.S.A. teamed up once again with A.J. Fernandez, who brought forward the extremely elusive "Medio Tiempo" wrapper–grown on 1 out of every 12 tobacco plants above the ligero leaves. The Medio Tiempo adds complexity and flavor to this Nicaraguan puro. A.J. and his team carefully harvested this special leaf and utilized a very intricate fermentation process for over 3 years. The time consuming process brought out the best in the medio tiempo leaf.
Rafael Nodal, head of product capability for Tabacalera USA, commented: "One of the things that I love about creating new blends, is the constant learning about tobacco. Working with AJ Fernández and the rarest wrapper in the world, Medio Tiempo, has definitely been a unique and rewarding experience. There are great cigars and then there is the H. Upmann 175th Anniversary blend. An unforgettable cigar."
H. Upmann 175th Anniversary is a medium to full-bodied cigar that starts with elements of coffee and some earthiness. As the cigar progresses, the flavors intensify with notes of caramel and salt coming forth along with roasted espresso bean overtones. The clean finish delivers a creamy and uncommonly velvet smoke with a rich and resonate balance of spices, dark chocolate and nuts.
The H. Upmann 175th Anniversary will be available as a 7 x 50 Churchill cigar and will have an MSRP of $18 per cigar. MSRP for the 50 count H. Upmann Special Edition Humidor is $1,250. This cigar will make its debut at the 2019 International Premium Cigar & Pipe Retailers Association (IPCPR) trade show and convention.
For all the latest news from Altadis U.S.A., visit altadisusa.com.