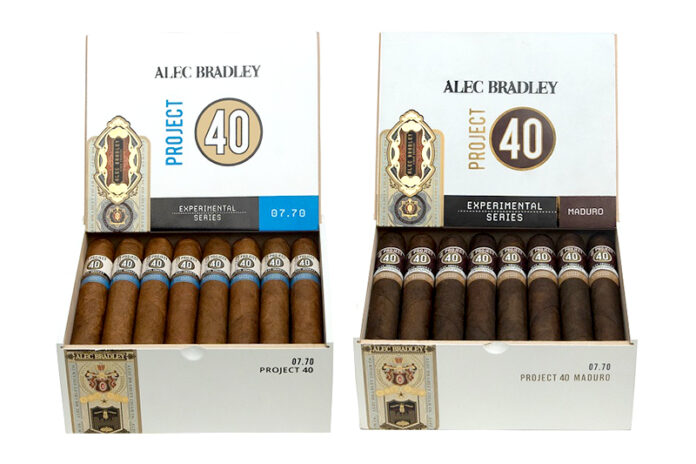 Alec Bradley Cigar Co. is expanding its award-winning Experimental Series lines, the Project 40 and Project 40 Maduro. Each line will gain a new 7 x 70 expression called the 0.7.70. Each cigar will be presented in a 24-count futuristic white box with their respective line designations. These cigars will make their debut at the 2022 Premium Cigar Association (PCA) trade show.
"We listened to the needs of our brand advocates and found it was the right time to add 7″ X 70 ring-gauge cigars to both lines," said Alec Bradley Founder, Alan Rubin. "When we first launched the Project 40 Experimental Series, I promised the right cigar, with the right blend, at the right price. That statement still stands for these new iterations."
Project 40 was first introduced in 2019 and received numerous accolades from the industry, including a 93 rating and placement on Cigar Aficionado's Top 25 list. The line's "Experimental Series" moniker is attributed to Alan Rubin's quest to blend under-utilized Brazilian tobacco in a meaningful way. He found that using it in the Project 40's binder was best for creating a unique and flavorful cigar experience.
Both Project 40 and Project 40 Maduro 07.70 will retain the same blend as their predecessors. For the Project 40, that blend consists of a Nicaraguan wrapper, Brazilian binder, and Nicaraguan filler tobaccos. Project 40 Maduro will have a San Andreas wrapper, Brazilian binder, and filler tobaccos from Nicaragua.
Both the Alec Bradley Project 40 and Project 40 Maduro 07.70 will be made in Nicaragua and debut along the recently announced third line release in the Experimental Series: Double Broadleaf [read more here]. These new cigars are expected to ship in August 2022.
For all the latest news from Alec Bradley Cigars, visit alecbradley.com.