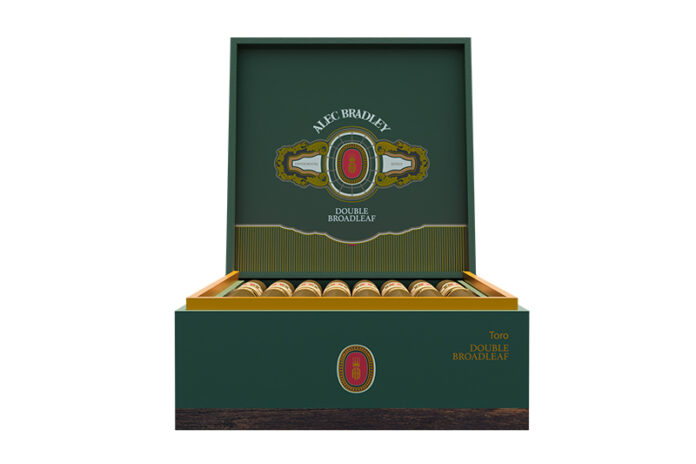 Recently, Alec Bradley announced the upcoming release of the Double Broadleaf Experimental Series, the third project in the company's Experimental Series and the first full cigar line Alec Bradley will have released since 2020's Project 40 Maduro. This new cigar will be presented in a dual tone green and natural wood box containing 24 cigars. Double Broadleaf Experimental Series will be available in five sizes which will make their debut at this year's Premium Cigar Association (PCA) trade show in Las Vegas.
Like the other Experimental Series releases, Double Broadleaf is rooted in the company's passion for innovation. Company founder Alan Rubin once asked a premium cigar industry friend for some seeds of coveted Connecticut Broadleaf tobacco to plant in the rich soils of Honduras. After years of testing, this tobacco is ready to use and has been blended by Alan and his sons, Alec and Bradley, to create the new Alec Bradley Double Broadleaf Experimental Series.
In a press release, Alan Rubin commented: "Alec, Bradley and I wanted to create a cigar spotlighting the beautiful Broadleaf wrapper we grew," Alan said. "As we blended though, we all craved more of that bold, rich flavor that Broadleaf imparts, so we doubled-down and added a Broadleaf binder leaf to the blend- which also led to the name: Double Broadleaf."
Alec Bradley describes the Honduras-produced Double Broadleaf Experimental Series as being full bodied and the blend was created to go beyond the flavor profile currently found in the company's cigar portfolio. In addition to the cigar's proprietary Broadleaf wrapper and binder, the blend is completed by an additional binder leaf from Nicaragua and includes filler tobaccos from Honduras and Nicaragua.
Retailers will be able to pre-order this cigar in the following sizes at PCA 2022: Robusto (5 x 50), Chunk (4 x 60), Gran Corona (7 x 46), Toro (6 x 52), and Gordo (6 x 60). The MSRP per cigar will range from $9.85 to $12.75 before any applicable taxes.
For all the latest news from Alec Bradley, visit alecbradley.com.