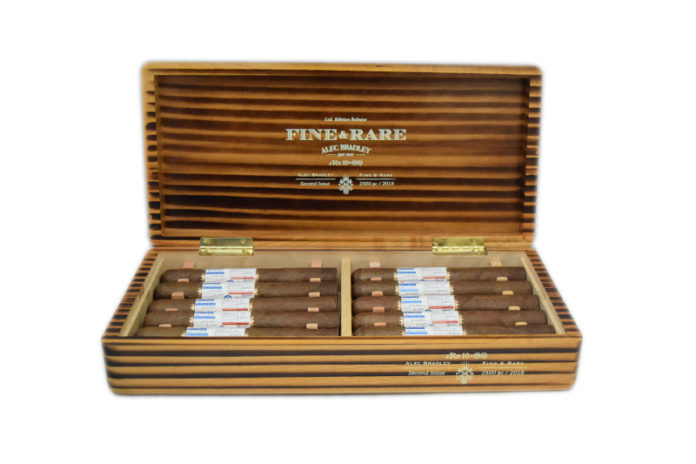 When you hear the word "complex" used to describe a cigar, it usually describes the cigar's flavor. For Alan Rubin, founder of Alec Bradley Cigar Co., it can be used to describe the intricacies and complications of blending a cigar. Never shying away from a challenge or doing something different, Rubin created a cigar with 10 different tobaccos which would come to be known as the Alec Bradley Fine & Rare.
Alec Bradley has always embraced the idea of innovation within cigar blends and creation. The Alec Bradley Trilogy was the first ever triangular-pressed cigar; the Alec Bradley MAXX with its huge ring gauge and with all sizes being sold for the same MSRP. Fine & Rare first made its appearance in 2011 and has been in demand–but unavailable–since that release until now. The 2018 Fine & Rare JRS10 = (86) is this cigar's second release and comes in at 6 1/2 x 56. The cigar officially comes out on Oct. 24, 2018 and will be rolled by a single duet of master rollers due to the precision needed to construct the blend. Fine & Rare is created at the critically-acclaimed Raices Cubanas Factory in Danlí, Honduras.
"Fine & Rare is an ever evolving project," Rubin said. "It is a concept more than a cigar. Fine & Rare has been a Double Figurado, it has been a Torpedo and a Parejo. From iteration to iteration we play with different tobaccos and different crop years to create a 10 leaf masterpiece. Having learned early on in my career that you must listen to the tobacco and let it tell you when it's ready; I always need to allow the combination of select leaves to dictate the size of Fine & Rare in any given year. For 2018 the only thing I heard was: 'JRS10 = (86) Gran Toro'. The tobaccos have married incredibly. The blend is where it needs to be. I am very excited for this release!
"Fine & Rare is for enthusiasts to experience and enjoy. The blend is well balanced and showcases the different levels of flavor that every leaf in the cigar offers. With the holidays fast approaching, Fine & Rare is something special that can be shared with friends and family to take enjoyment to the next level!"