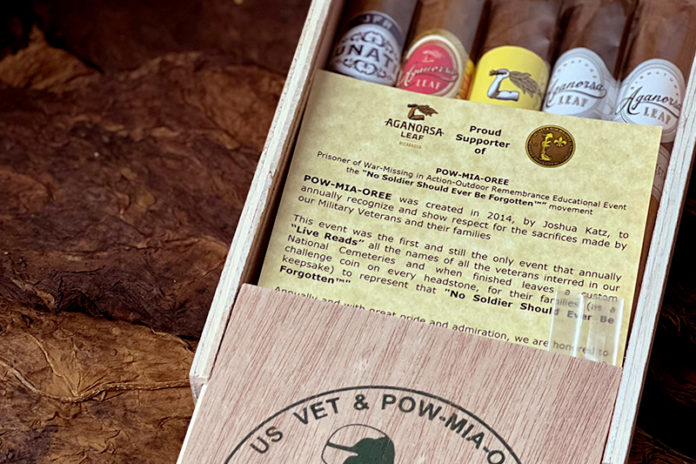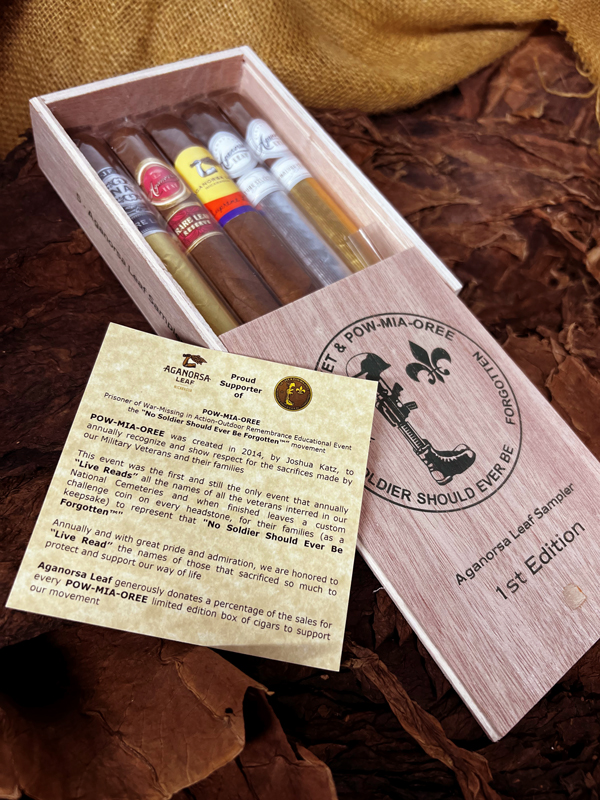 Aganorsa Leaf is releasing a limited edition sampler that will help raise money and awareness for POW-MIA-OREE, an organization founded in 2014 by Eagle Scout Joshua Katz to recognize the names of all veterans interred in National Cemeteries. At these Outdoor Remembrance Educational Events (OREE), the names of soldiers are read aloud and challenge coins are left on every headstone as well as presented to the families present as a reminder that "No Solider Should Ever Be Forgotten."
To help support this organization's efforts, Aganorsa Leaf has created 200 limited edition samplers each containing five toros of their most popular cigars: Rare Leaf, Supreme Leaf, Signature, Signature Maduro and Lunatic Hombre Libre. A percentage of the proceeds from each box will be donated to POW-MIA-OREE.
"This is a truly admirable organization and we are happy to contribute to its noble purpose of honoring our veterans," states Terence Reilly, vice president of sales and marketing. "The cigars in this sampler have never been sold together. We wanted a special selection of our most sought-after blends to demonstrate our appreciation for POW-MIA-OREE and the important work they are doing."
Samplers will be sold exclusively through Smoke Inn. A release party will also be held at Smoke Inn's Boynton Beach, Florida location on May 20, 2022. During May, both Armed Forces Day (May 21) and Memorial Day (May 30) are observed. Each sampler will have an MSRP of $49.99.
For all the latest news from Aganorsa Leaf, visit aganorsaleaf.com. You can find more information or contribute to POW-MIA-OREE by visiting pow-mia-oree.com.