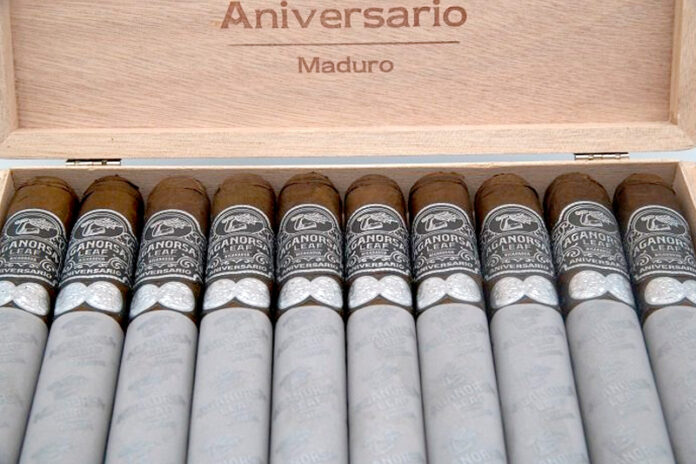 Aganorsa Leaf's Aniversario Maduro will be making a big return to store shelves this summer. The 2022 release of the Aganorsa Leaf Aniversario Maduro uses the same blend of 100 percent Aganorsa Leaf-grown tobaccos wrapped in the company's proprietary Shade Grown Corojo Maduro cover leaf, as it was in previous years. What differs with this year's release, however, is that it will be available in three new vitolas: a box-pressed Gran Robusto (5 x 54), a box-pressed Toro (6 1/4 x 52), and a box-pressed Gran Toro (6 x 58).
The Aganorsa Leaf Aniversario Maduro will feature the company's updated bands that emphasize the Aganorsa Leaf logo and that also will differentiate it from the Aniversario Corojo line. These cigars will be available in 10-count boxes. The Aganorsa Leaf Aniversario Maduro will now be a core line brand and exclusive to those retailers that attend the PCA trade show as well as those that are part of the Aganorsa Select Accounts for the remainder of 2022.
"The Aniversario Maduro blend was a massive hit the last two years and there was great demand for this cigar to return to the market," says Terence Reilly, vice president of sales & marketing. "Between the gorgeous presentation and the quality of the blend, we feel Aniversario Maduro will become one of our best sellers now that it will be consistently available. We encourage our retail partners to make sure to stop by our booth at PCA to ensure you have access to this amazing cigar."
The Aniversario Maduro will have an MSRP that ranges from #13.50 to $15.50. This release will begin to shipping to retailers in August.
For all the latest news from Aganorsa Leaf, visit aganorsaleaf.com.