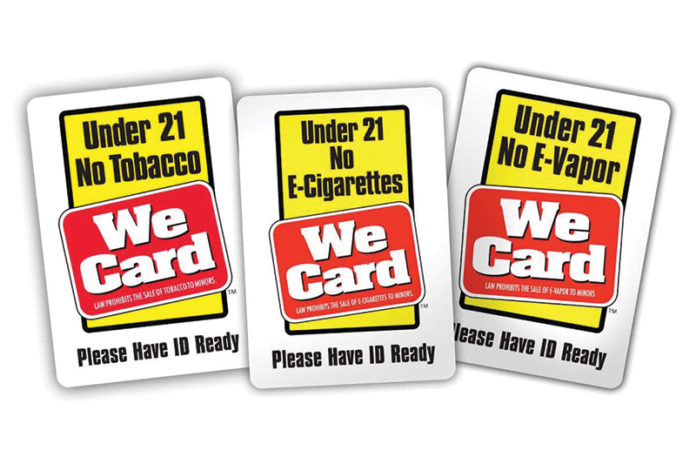 The increase in youth usage of electronic nicotine-delivery systems (ENDS) coupled with efforts by the U.S. Food and Drug Administration (FDA) to combat that usage is making it more critical than ever for retailers to adopt effective age verification policies. In a Sept. 12, 2018, news release, the FDA announced that it had issued more than 1,300 warning letters and civil monetary penalties (fines) to retailers who "illegally sold Juul and other e-cigarette products to minors during a nationwide, undercover blitz of brick-and-mortar and online stores."
Citing a "dramatic increase" in ENDS use among youth over the previous year, a Nov. 15, 2018, statement from FDA Commissioner Scott Gottlieb proposed "new steps to protect youth by preventing youth access to flavored tobacco products and banning menthol in cigarettes." Commissioner Gottlieb's statement emphasized a concern for the locations in which these products are sold. In his perspective, age verification was especially in need of heightened processes in locations that are not age-restricted locations as well as online retailers.
Another statement from the FDA citing youth usage of ENDS report-ed that the agency is "indefinitely stepping up enforcement actions with a sustained campaign to monitor, penalize and prevent e-cigarette sales to minors in retail locations, including manufacturers' Internet store-fronts. The agency is exploring action under both its civil and criminal enforcement tools to target potentially violative sales and marketing practices by manufacturers as well as retailers."
Commissioner Gottlieb has also reportedly stated that he believes vape shops "do a better job of checking IDs" and signaled that he may consider restricting e-cigarette sales to "adult vaping shops" and removing them from convenience stores.
Heightened scrutiny of age verification is underway, which means retailers need to have formal store policies on federal, state, local, and store-specific age and ID verification requirements. In addition, they must ensure that these policies are reviewed and understood by all employees.
Civil Monetary Penalties
The civil monetary penalties (CMP) that can be assessed by the FDA on retailers that sell tobacco products to minors are as follows: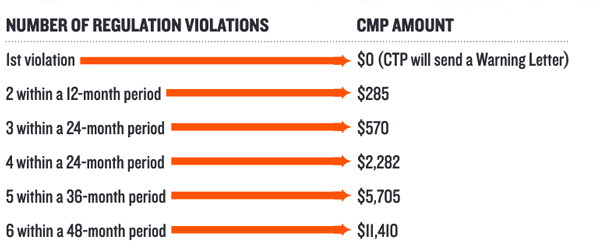 The FDA may also pursue a "no tobacco sale order" (NTSO) against retailers with five or more repeated violations of certain restrictions within 36 months. Retailers under an NTSO are prohibited from selling regulated tobacco products at the specified location during the period for which the NTSO is in effect. At press time, it was announced that the FDA had filed complaints seeking NTSOs seeking to bar two specific retail locations from selling tobacco products for 30 days. The two retail outlets that are the subject of these NTSO actions are a Walgreens store in Miami, Florida, and a Circle K store in Charleston, South Carolina.
Key Requirements on Age Verification Below are key requirements from the FDA's website regarding age verification for retailers that apply to the following products:
Cigarettes
Cigarette tobacco
Roll-your-own tobacco
Smokeless tobacco products
Cigars
Hookah and pipe tobacco
E-cigarettes/ENDS
Nicotine gels
Dissolvables
The FDA requires that retailers:
Check the photo ID of everyone under the age of 27 who attempts to purchase these products.
Restrict the sale of these products to customers age 18 or older (Note: Multiple localities and six states—California, Hawaii, Maine, Massachusetts, New Jersey and Oregon—prohibit the sale of tobacco products to anyone under the age of 21. Alabama, Alaska and Utah have a minimum purchase age of 19.
Must not sell these products in a vending machine or self-service dis-play unless the display is located in an adult-only facility.
Must not give away free samples, although the FDA does allow pro-motions such as buy one, get one free and membership rewards with purchase. Any "free" tobacco product must be provided at the time of purchase of another tobacco product, and the age and ID of the purchaser must be verified.
Make certain point of sale technology is available to assist in the age verification process.
As part of the FDA's crackdown on ENDS in the fall of 2018, Com-missioner Gottlieb proposed possible actions by the FDA on limiting the retail sale of certain vapor products. At the time this magazine went to press, the FDA had yet to issue any guidance or proposed rules on the policy proposals below. However, retailers should be aware that the following are under consideration:
Prohibiting the brick-and-mortar retail sale of flavored vapor products in any stores that are not age-restricted (i.e., 18 and older) to enter or requiring that those products be made available only in an age-restricted section of the store that minors are prohibited from entering and where restricted products will not be visible to minors.
An exception permitting the continued brick-and-mortar sale of mint-, menthol- and tobacco-flavored vapor products in locations that are not age-restricted.
Requiring unspecified "heightened" age verification measures and other restrictions for online sales of flavored vapor products (with the exception of mint-, menthol- and tobacco-flavored vapor products).
Although the FDA maintains a website intended to present its regulatory requirements for tobacco, it is hoped that collaboration by the FDA with an industry trade organization, the National Association of Tobacco Outlets (NATO), will result in a simpler and easier to understand presentation of FDA requirements. Another source for information on this topic can be found on the "FDA Toolbox" section of the International Premium Cigar & Pipe Retailers Association website (IPCPRLegislative.org).
The above is only an overview of the FDA's age verification issues. Retailers also need to be familiar with their state and local requirements. It is important to keep in mind that these requirements do not reflect municipal or state age and ID verification requirements. This article does not attempt to address warning statement or advertising requirements and other regulatory requirements (federal, state and local) that apply to retailers as well.For additional guidance, please confer with your legal adviser to get a complete update on this subject as it applies to your situation.
– Contributed by Henry C. Roemer III, a business law attorney and partner at Finger, Roemer, Brown & Mariani LLP. He has extensive legal experience in tobacco and business transactional matters, and he represents tobacco companies in all aspects of compliance with federal, state and local matters.