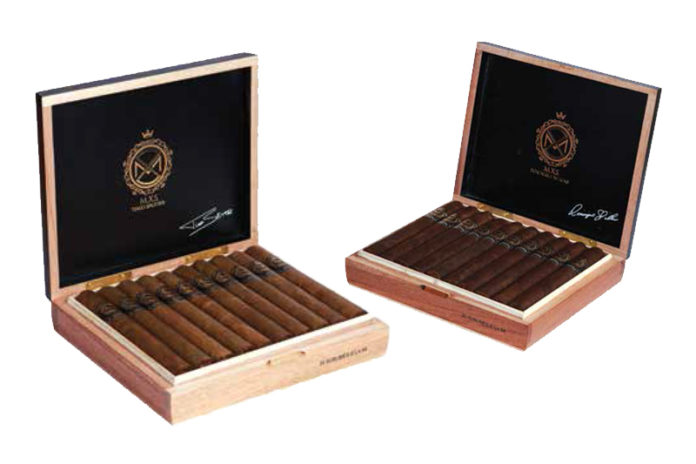 A.C.E. Prime has announced the upcoming launch of M.X.S., a Special Signature Series that will launch with the help of NBA stars Dominique Wilkins and Tiago Splitter. M.X.S. will launch at the 2019 International Premium Cigar & Pipe Retailers Association (IPCPR) trade show and convention in Las Vegas.
"We have brought together world-class athletes, some of the finest tobacco in the world, with our well-established pedigree as master blenders and cigar producers," says Luciano Meirelles, co-founder of A.C.E. Prime. "These are the magic ingredients for 'Maximum Excellence and Success.' We can't wait to share these cigars with the world!"
Wilkins is a nine-time NBA all-star, hall-of-famer, and slam-dunk master who played for the Atlanta Hawks for eleven seasons. During the course of his career, Splitter spent seven seasons in the NBA and won an NBA World Championship Ring with the Spurs in 2014. Both Wilkins and Splitter will be in attendance at IPCPR 2019 during the launch of M.X.S. Cigars. Both men's constant effort and hard work served as inspiration for the M.X.S. brand.
"It was not by chance that M.X.S. has come into existence," commented Splitter. "Like my basketball career, this first-of-its-kind cigar is the result of years of professional development, personal friendships, and decades of tradition. M.X.S. is for champions."
M.X.S. by Tiago Splitter was carefully crafted in Tabacalera Pichardo. It is inspired by NBA champion Tiago Splitter's life and career and is marketed as a victor's cigar. To craft this cigar, A.C.E. Prime took three different types of fermenting tobacco leaves from different regions of Nicaragua and spent several months perfecting the blend. The company describes this cigar as smooth until the second half when the flavor and strength grows considerably from the second half to its end.
M.X.S. by Dominique Wilkins is a special blend that incorporates a San Andres wrapper and Nicaraguan and Dominican fillers that give the cigar a balance of power and flavor. Due to its complexity, the company recommends pairing it with Scotch, Bourbon and even Stout Beers.
During IPCPR 2019, Wilkins will also be releasing his own exclusive cigar named the Dominique Wilkins Cigar. It will be available for preorder during this year's trade show.
For all the latest news from A.C.E. Prime, visit aceprime.com.