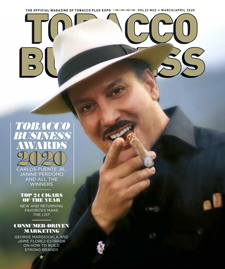 Tobacco Business is the leading trade publication focusing on the businesses, brands and entrepreneurs of the premium tobacco industry. Each issue takes readers inside the inner-workings of cigar factories, companies and retail with stories on some of the leading industry innovators, brand owners and retailers with stories aimed at helping those working in the industry to improve and strengthen their businesses.
Keep up with all the latest news and stories from Tobacco Business both in print and online with its new website and on Twitter (@tobaccobizmag), Facebook (http://facebook.com/tobaccobusiness) and Instagram (@tobaccobizonline).
Tobacco Business is published bi-monthly by Tobacco Media Group (TMG), owners and operators of the Tobacco Plus Expo (TPE) show is a trade show. TPE is dedicated to manufacturers and distributors of tobacco, vapor and other alternative products in need of a venue to exhibit their tobacco products, auxiliary merchandise and related services. The TPE Show attracts more than two thousand participants annually to view new product, place orders, network and participate in educational sessions designed to foster business strategies which enhance top and bottom lines. Show registrants represent convenience tobacco stores, tobacconists, convenience stores, wholesalers, importers/exporters, manufacturers, the emerging vapor market, consultants and tobacco industry media, reporting on the burning issues and tobacco community goings-on. Additional information on the TPE trade show can be found at tobaccoplusexpo.com.