With e-commerce taking off and pipe sales on the internet blossoming, Jeppesen realized that he could establish his own pipe company and earn a living pursuing his first passion. He bought all the machinery he needed from Larsen to finish building out his own workshop—including a fraising machine to allow him to make machine-made pipes from a handcarved model—and he established Neerup Pipes in 2001, naming the company in honor of his maternal grandmother's family.
Like he had learned from his time at Karl Erik and at Nording, Jeppesen's plans for Neerup Pipes would be to make high-quality pipes that sell for relatively inexpensive prices. Indeed, most Neerup pipes retail at around $120 to as much as $600 for a completely handmade P. Jeppesen model. The pipes come in a diverse array of shapes and styles, but all of them exhibit that hard-to-describe innate Danish ability for free-flowing lines between the mouthpiece and the bowl and shank.
"The lines between the bowl and the mouthpiece are what make a great pipe," Jeppesen says. "It takes a lot of attention to details. I keep my own design that's easy to recognize when you see my pipes. They stand out. I put a lot of time and effort in designing the pipes. I think smokers get a great pipe for the price."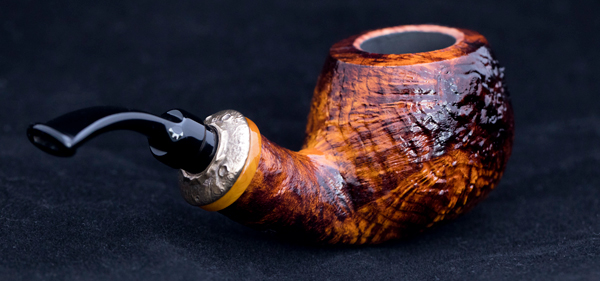 While the Neerup pipes are made using a fraising machine to copy a handcarved model that Jeppesen has created, each pipe is given individual characteristics after the basic shape has been created on the machine. He sometimes leaves areas of a briar's rough exterior untouched to leave a little bit of the wood's natural appearance on a pipe. Other times, he will carve a creative motif on a pipe's exterior, such as birds or tobacco leaves. Then there are the adornments that Jeppesen can add to his pipes, especially for the slightly more expensive handmade creations. Silver, brass, acrylic, gemstones, exotic woods and special mouthpieces are all considerations for these works of art.
"I like working with unique and exotic fittings," he says. "I search everywhere for them, and I get my inspiration from whenever I'm out in nature, especially the sea. I see shapes and forms from the natural world, and ideas start to pop into my head. Being outside clears my mind and sparks my creativity."
Neerup Pipes has become a true family business in recent years. Bettina has always pitched in to perform accounting duties, carry out correspondence with customers and help package pipes for shipment to the U.S., Germany, China, Italy, Spain, Malaysia, India and Japan. Ida is a fitness trainer who sometimes helps with packaging. Christian has joined his father in making pipes in a larger workspace located about a mile from the family farm, thus ensuring that the tradition of being an all-around pipemaker capable of crafting machine-made pipes, handmade classical pipes and fanciful freehand specimens that Jeppesen learned more than 40 years ago remains alive and well for the foreseeable future.
In total, the Jeppesen family created approximately 4,000 pipes in 2019, and they hope that once the worldwide COVID-19 pandemic subsides, they can get back to making as many—or more—pipes in 2020 and beyond. Of particular interest for Jeppesen is expanding his retailer network in the U.S., which is by far his largest market. Rather than working with a distributor, the Jeppesen family prefers to deal directly with their retail partners and has established a solid core of 25 or so pipe retailers in the U.S. It doesn't take a big investment to become a Neerup Pipes dealer. Just a dozen or so pipes will do the trick, and the Jeppesen family even offers photos of all the available pipes so retailers can choose the ones they want to purchase.
"My overall goal with my Neerup and P. Jeppesen pipes is to provide the customer with a product that exceeds their expectations," Jeppesen concludes. "We want to continue to be a unique small pipe workshop that keeps the core of Danish pipe making traditions, with a production that is sold in some of the largest and finest tobacco and pipe shops all around the world. We feel an obligation to continue this fine tradition of making quality handcrafted pipes and keeping the spirit of Danish pipes alive by providing a quality product at a fair price. Our future is to continue to develop our pipe production in Denmark with the famous Danish quality for consumers who are interested in buying pipes with rare Danish craftmanship for fair money and will give them pleasurable enjoyment and great experiences that they will be proud to show to their friends and keep in their pipe collections."
This story first appeared in the July/August 2020 issue of Tobacco Business magazine. Members of the tobacco industry are eligible for a complimentary subscription to our magazine. Click here for details.
– Story by Stephen A. Ross, editor-in-chief of Tobacco Business Magazine.