"[There are] no more clogged fuel lines and no more built-up residue in the tank," says Jenovese. "The Vulcan and Mirage go straight from fuel to burner. Since the pocket butane pod is small, it is easily portable—and because of its universal valve—it can also be used to refill other torch lighters, making it great to refuel a friend."
Jenovese provided several reasons why consumers have embraced Bugatti Group's Vulcan and Mirage lighters. "Initially, clients love the look and format of the lighters," he says. "They're very comfortable to use and fit in the hand perfectly, making them a breeze to light up. Then it's the weight and cold-in-hand feel of the all-metal body—they are luxurious, powerful and bold. Once it is lit, the innovative technology becomes the highlight. The adjustable twin pinpoint flame sparks quickly and provides a steady fire source every time. And after multiple uses, smokers recognize that the true advancement with these lighters is the 18 mL pocket butane pod and the ability to light over 50 cigars without refueling. Consumers are changing the way they smoke because of the immense convenience these lighters provide. The first few seconds of enjoying a cigar always start with a guessing game: Does my lighter have fuel? Does someone around me have a refill tank? Do I remember where I put my refill tank? All that worry is gone."
So far, Bugatti Group's bestsellers are its midnight blue, matte black, and silk red Vulcan and Mirage lighters. Both lighters have the same features, but the Mirage is slightly smaller, while the Vulcan has a pivot head with a longer reach. The company has reportedly seen a steady increase in requests for the polished yellow/chrome velour Vulcan and the juniper green/matte gunmetal Mirage.
"Many of our retailers and even consumers have pointed out that the honeycomb design of the Mirage is a favorite among female smokers, which makes us extra proud of our products," says Jenovese. "We are already in the design phase for our next generation of lighters that will offer more color choices for men and women, and we think these will appeal to an even larger base of consumers."
There are plenty of reasons for cigar smokers to be excited for Bugatti Group's current lineup. Due to the technology used in its 18 mL pocket butane pod and the twin pinpoint torch flame, the Vulcan and Mirage models both have above average performance in high-altitude and windy environments. The adjustable twin pinpoint torch flame can be dialed up, increasing its performance in windy settings. The precision of the twin pinpoint torch flame also leads to more control and better lighting of a cigar. Because a refill can doesn't have to be connected to the lighter's tank when the lighter is empty, the user will experience maximized fuel efficiency by using the Vulcan and Mirage's pocket butane pod instead. The direct connection helps to minimize clogged fuel lines and pressure issues. For the user, this means there will be less refilling.
To give consumers even more confidence with their purchase, Bugatti Group backs its Vulcan and Mirage torch lighters with a two-year limited warranty that covers mechanical parts as well as manufacturer defects. Consumers can contact Bugatti Group directly with any issues, and the company will take care of the request itself. Consumers can also deal with their local brick-and-mortar store where they purchased the lighter, and Bugatti Group will work with them on any warranty claims. All claims and service are performed in Bugatti Group's South Florida office, another part of the company's hands-on approach to business and serving its customers. Bugatti Group also offers an optional extended warranty that can be purchased through the company's website and through select retailers. The extended warranty is offered in two options: extending the limited coverage to lifetime or purchasing an accidental coverage plan that covers physical damage for up to five years.
Big Margins
Bugatti Group's line of lighters and butane are potential profit centers for retailers. In addition to offering consumers a quality, innovative product for a good price, Bugatti Group's products provide retailers with mid-price torch lighters that sell easily and can increase profit margins for retailers. Specifically, the 18 mL pocket butane pod can easily be merchandised near the register and offered to consumers during the purchase of a cigar. These pods are small enough to fit in most cigar shop bags and are often sold as impulse buys. The sale of a Vulcan or Mirage torch lighter provides approximately 200 percent more profit than a typical cigar transaction, not counting butane fuel sales.
Retailers can bolster their sales by maximizing their shelf space efficiently with higher-margin, faster-selling products like Bugatti's Vulcan and Mirage torch lighters. The key to successfully selling these products in stores is to make sure the lighter selection isn't hidden.
Bugatti Group encourages retailers to keep their lighter inventory visible and available for purchase. Another tip is to not only think of traditional merchandising but to use the store's entire staff as part of the merchandising effort.
"Merchandise yourself and your associates, and always keep one of your best-selling lighters on your body so you can use it to light up your customers," Jenovese advises.
The company is developing both lighter counter displays and pocket butane pod dispensers that are designed to be attention-grabbing and spark interest and impulse buys. Other merchandising tips for increased lighter sales include using wall space within the retail space to show off new products. If lighters are displayed in a glass case, keep the case clean and dust free, and at the end of every engagement and transaction, always show the customer a lighter. It's also important for employees to be familiar and comfortable with the lighters they're trying to sell to customers. In the case of Vulcan and Mirage torch lighters, it's important for a store's staff to be able to show consumers how to change out the lighter's butane cans, how to change the modular heads and adjust the flame height, and to tell them how long the butane lighter will last.
"You want the consumer not only to fall in love with the look, feel and effectiveness of the lighter but also to understand how simple it is to be proficient at taking care of it," Jenovese explains.
Education is a cornerstone in Bugatti Group's support efforts for its retail partners. Helping retailers and consumers understand how its products work and how that technology sets it apart from other lighters in the market has been the focus of Bugatti Group's sales representatives, in-house team members and its digital marketing efforts since it was launched in 2019. The company has developed a digital training course that is available on its website and that explains the features and benefits of its torch lighters and its butane products. Consumers can also access these online videos to help them to better understand Bugatti Group's products. To maintain the human connection within its business, Bugatti Group's sales representatives and in-house support team are always available and ready to assist retailers and consumers with product and warranty concerns.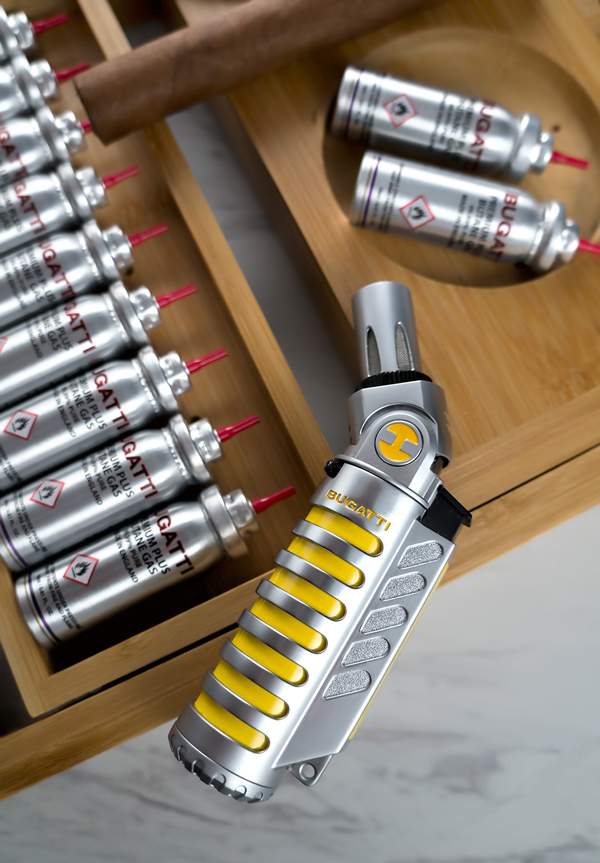 A Bright Future
The invention of Bugatti Group's Vulcan and Mirage torch lighters was spawned from a direct challenge to improve how cigar smokers light up. "The revolutionary advancements in torch lighter technology accomplished with the Vulcan and Mirage was based on overcoming decades of common lighter issues," says Jenovese. "The struggles consumers face with owning and caring for a traditional torch lighter have been eliminated. We changed the method of fueling and decreased the frequency between refills and eliminated the need for regular maintenance with modular burner units. With the introduction of the 18 mL pocket butane pod into the industry, consumers now recognize how convenient butane cans can be. The pocket butane pods are big enough for over 60 cigars, but they're small enough to keep extras where you need them. One pod in the lighter, another in your cigar case, one in the glove compartment of your car, another in the kitchen drawer, backpack, boat or golf bag—never worry about being without fuel again."
Bugatti Group is already working on some new products that will once again change the way cigar smokers light up their cigars. The entire company is determined to continue to break technological barriers and is lining up a release schedule for 2021 through 2023 that it hopes will once again excite retailers and consumers alike. For now, Bugatti Group is focusing on supporting its brick-and-mortar partners, whether that's with merchandising options or by promoting them on the company's website so consumers can easily locate and purchase their products locally. Jenovese reveals that Bugatti Group is also developing a program that will benefit retailers when their customers purchase a lighter from Bugatti Group's website, with full details to come soon.
Bugatti Group wants retailers to know that its team is ready to support its retail partners and that it will continue to innovate and create new products. The company was founded on the principles of innovation and improving, and those tenets will continue to drive the company forward. Bugatti Group stands by its products, retailers and customers at every opportunity. With innovation, quality and service all serving as the foundation of Bugatti Group, the future for the business looks bright.
This story first appeared in the January/February 2021 issue of Tobacco Business magazine. Members of the tobacco industry are eligible for a complimentary subscription to our magazine. Click here for details.
– Story by Antoine Reid, senior editor and digital director for Tobacco Business Magazine. You can follow him on Instagram @editor.reid.