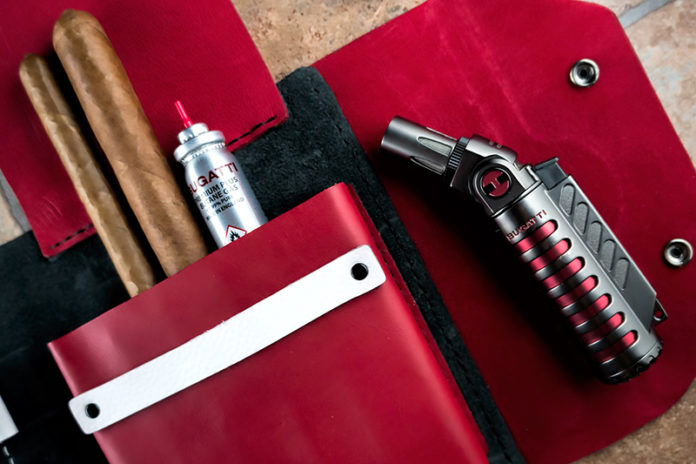 Lighters can often offer retailers above-average profit margins and also increase the amount of money customers spend on their average purchase orders. For any retailer who carries cigar products, offering customers an all-encompassing cigar experience with the addition of a robust selection of lighters is essential to a business's revenue and its bottom line.
Whether a customer is new to cigar smoking or they consider themselves to be an aficionado, a great lighter will only help cigar smokers feel further connected and invested in the cigar lifestyle. There are many lighters currently available in the marketplace today, but this wide range of lighters can be overwhelming to retailers. That's a problem that Bugatti Group has been tackling since its inception and has worked to address with its innovative selection of high-quality lighter products.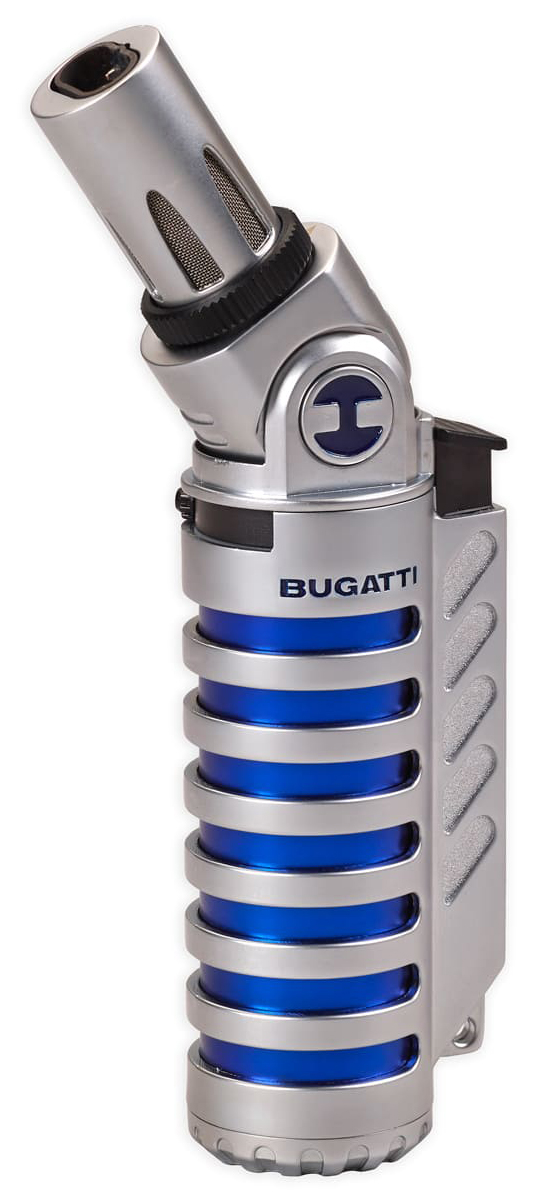 Bugatti Group was launched in the summer of 2019 with the release of its Vulcan and Mirage torch lighter lines. These two lighters were created by Yigal Harel, an inventor that helped pioneer the torch flame technology that is now used in most of the torch lighters available today. After 20 years of creating and designing torch lighters that would come to dominate the cigar industry, Harel was inspired to make torch lighters even better by focusing his work on making improvements to how these lighters worked. Traditional torch lighters require frequent refueling due to the high fuel flow and small butane capacity. Torch lighter burners also experience erosion through regular use that will eventually lead to their demise.
Harel was convinced these problems could be overcome, however, and after two years of research and development, the Vulcan and Mirage models were released. Derrick Hinnendael, Bugatti Group's product manager, worked closely with Harel to bring these new models to market. Hinnendael's knowledge of engineering, internal components, features and production were all instrumental in Harel's work and the eventual development of the Vulcan and Mirage models. Both feature an 18 mL replaceable pocket butane pod and removable burner unit.
As Harel and Hinnendael worked on perfecting the torch lighter, Bugatti Group sought the right people to fill out its team. In early November 2019, Rick Ardito joined the company as its national retail sales director. Ardito had a long history of working in the cigar industry, and early on he felt that Bugatti Group's new take on the torch lighter was a possible game-changer.
"During Bugatti Group's 2019 launch in Las Vegas, I had just closed out a 20-year career in the tobacco industry to pursue a teaching career—at least I thought that was the plan," says Ardito." I received one too many calls from industry friends who fell instantly in love with the lighters while exclaiming [that] the company was in need of a national person, someone who sort of knew the lay of the land. After meeting with the Bugatti staff and handling my first Vulcan, I knew I'd be putting classrooms on hold. I was staggered by the design, nevermind the innovation, but what pulled me in closer and ultimately became decisive was that magical ethos I detected among the staff members. It brought me back to 1990s Drew Estate—just oozing with creative talent, enthusiasm and determination."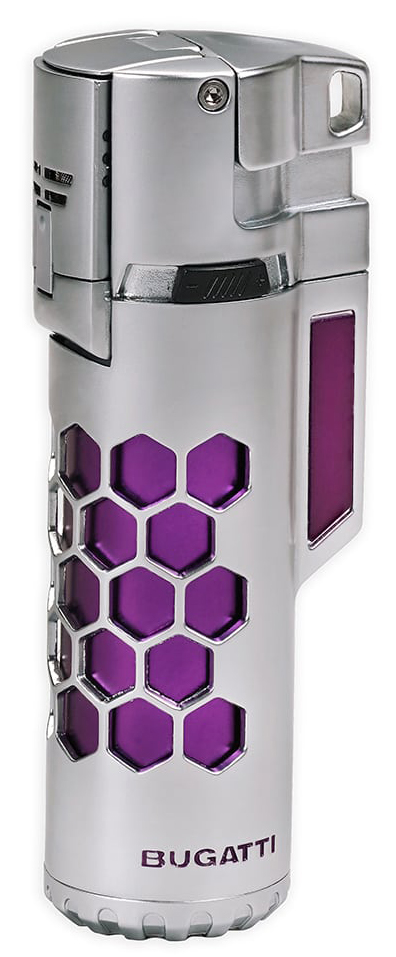 Yuval Hadaya joined Bugatti Group as its CEO in late 2019. Previously, Hadaya was a captain with New York's VVIP helicopter service. Hadaya used his 40-plus years of experience as a leader, captain and former director of operations at an aviation company to assemble a team of people who all aligned with the company's core values of innovation, quality and service. One of those hires was De'Anna Jenkins, who not only manages the office but also brings much more to the company through her leadership, management, vision and execution of day-to-day operations.
"We want our lighters and our service to bring joy to people," says Jenkins. "When they sit down to light up and relax or they are on the golf course or in a boat fishing, we want them to enjoy the experience completely without any sense of feeling let down, frustrated or discouraged. Life can be difficult enough. Getting a great lighter and great service shouldn't be among the challenges in their day."
In March 2020, Joseph Jenovese was hired to take over the role of marketing director after overseeing a successful marketing blitz for Bugatti Group during the 2020 Tobacco Plus Expo trade show. Jenovese is responsible for product photography, promotion, branding and marketing for Bugatti Group's products. He also is involved in the design and vision for the next generation of Bugatti Group releases.
"I was at the Las Vegas launch for the Vulcan and Mirage, and I can pinpoint the exact moment I realized what these lighters could do," Jenovese says. "I was fascinated by the two lighters, immediately realized the potential and made it my goal to get involved with the company. After a few months of managing digital marketing through my creative agency, I was recruited by the CEO to become marketing director. The products were enough alone to want to be involved, but the team made this company a family. The team is a big part of the innovation behind Bugatti Group."
Every company strives to be innovative, but Bugatti Group has taken innovation on as a personal challenge and business mission. Here's how Bugatti Group has disrupted the wildly popular torch lighter category and how can it turn lighters into big profits for retailers who stock them on their store's shelves.
Understanding the Market
Bugatti Group believes a good lighter is defined by four attributes: quality, consistency, convenience and warranty. Most members of Bugatti Group's operations team are cigar smokers themselves and had a clear idea of what consumers looked for in a torch lighter. Bugatti Group's team knew that the lighter's aesthetic, how well it stood up to multiple uses in the same day and the ease of maintaining it would all be of importance to consumers looking to invest in a reliable lighter that would help them enjoy their cigars. When developing its own line of products, Bugatti Group considered the entire lifespan of its lighters—this idea is what was used to drive its innovation, design and development. What Bugatti Group did not want to do was to create a throw-away lighter—but rather one that the purchaser would take pride in and would help them better enjoy the cigar lifestyle.
"We think that owning a good lighter means you're serious about enjoying your cigars and that you take pride in such a wonderful passion," says Jenovese. "It's not about having a fancy name or trendy commercials. It's about reliably lighting up with the best tool, like a pro, and enjoying the tobacco experience, ritual and community the way it is meant to be savored."
Convenience is one of the most important features that Bugatti Group's designers and developers tried to account for when creating the company's two lighter models. Convenience is an all-inclusive word that covers many of the must-have features for most consumers, including versatility, ease-of-use, quality and comfort. A lighter, Jenovese says, must be comfortable when held in a smoker's hand and also easy to use or the consumer will toss it aside and look for a better option. This is what makes a lighter's trigger so important, and why Bugatti Group made sure its lighters all have good-sized trigger buttons and that the lighters felt good when handled by cigar smokers.
Price was another area of the lighter category that Bugatti Group wanted to disrupt. Price is usually consistent with quality, and that remains true for the lighter market. Lighters priced below $20 are considered throw-away lighters by many consumers because they only last a few months for regular cigar smokers. Bugatti Group kept this in mind when developing Vulcan and Mirage. Because Bugatti Group is both the inventor and manufacturer of these two lighter models, it doesn't need to mark up its prices and passes on this benefit to the retailers and consumers by offering a fair and cost-conscious product.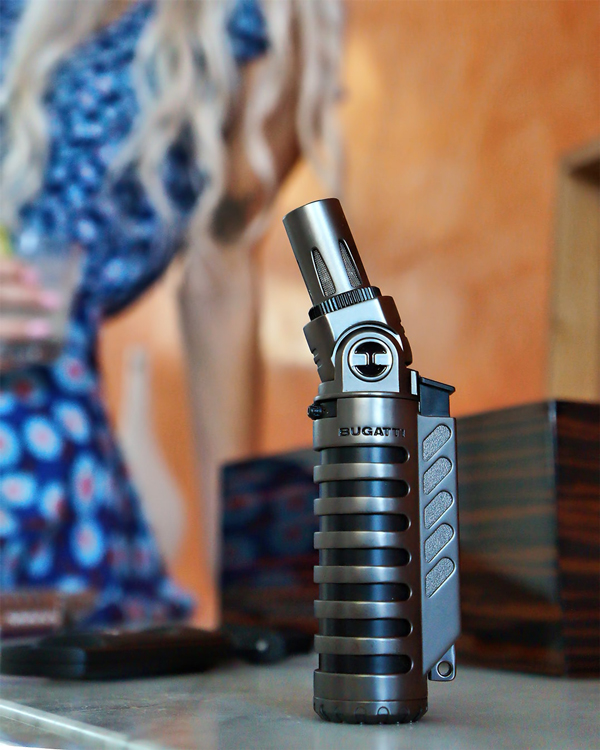 An Innovative Approach
Bugatti Group currently offers two different lighter models—Vulcan and Mirage—in six different colors each. Both lighters feature a twin pinpoint torch flame that is windproof, a replaceable burner unit that can easily be replaced without any tools, a revolutionary replaceable pocket butane pod with an 18 mL fuel capacity, a multistage adjustable flame angle and all-metal housing. It's the innovative technology used to create the different Bugatti models that has helped to distinguish their lighters from others in the market. Bugatti's lighters were created out of a desire to solve a problem and thus were built with exceptional quality and world-class customer service in mind.
Some of the most common issues consumers face with many other torch and butane lighters were accounted for in the design of the Vulcan and Mirage models. When a lighter's jets get clogged or the burner unit needs to be replaced due to normal wear and tear, consumers typically have to send their lighter off to be repaired or replace it entirely. That isn't the case with the Mirage and Vulcan models. Consumers are able to snap in the replacement burner unit within seconds without needing any tools, which is a major improvement in the overall usability surrounding most lighters.
Another issue consumers typically face with lighters involves the fuel tank, which only holds between 1 mL and 3 mL of butane. That usually means a cigar smoker is refueling after every five to eight cigars and must purge the tank of air in between each refueling session. Both the Vulcan and Mirage models use an 18 mL replaceable pocket butane pod with a universal nozzle that lasts for between 60 cigars and 100 cigars (depending on the size of the cigar), making this feature innovative when compared to most other lighters.