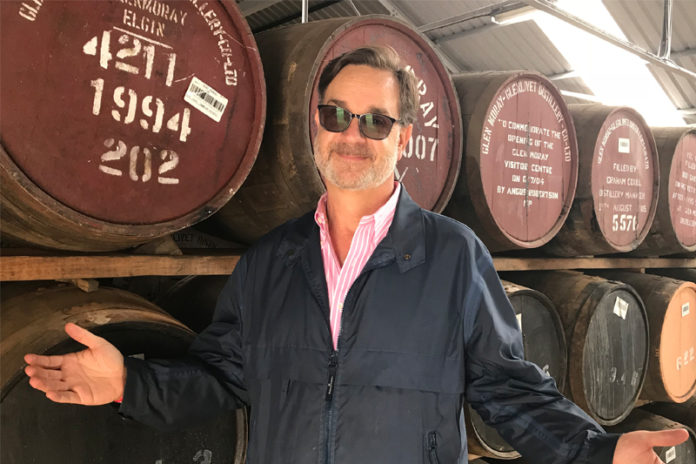 Manufacturers have long placed great importance on educating their customers and retailers in order to build their products' value. This is especially true for cigar manufacturers and spirits makers, who are constantly hosting tasting events in stores, giving them an opportunity to expand on the features, benefits and advantages of a particular product so that a customer might be more likely to buy it. Education has become a tremendous sales tool in any company's arsenal to improve sales. For
The Whisky Attic, it's more than a tool—it's the entire focus of the Las Vegas, Nevada-based business.
The Whisky Attic is the culmination of Sir Adam Carmer's lifetime of research and education in sensory perception, especially as it pertains to tasting spirits. Inducted into the Union of Belgian Brewers' Knighthood of the Mash Staff in 2014, Carmer has a long history of working in the restaurant and hospitality industry as well as in academia. He is currently a doctoral candidate at the University of Liverpool in the United Kingdom, and he teaches classes for the College of Hotel and Tourism Leadership program at the University of South Florida Sarasota-Manatee.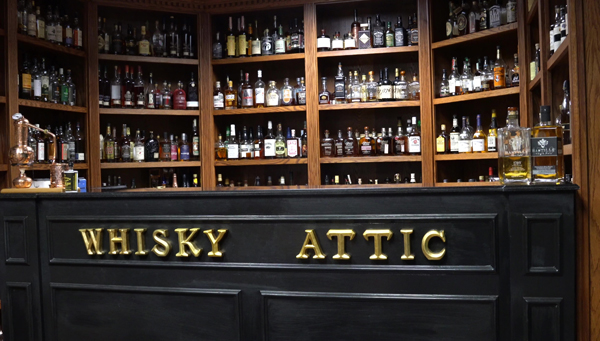 He was maitre d' at Treasure Island Hotel & Casino when it opened in Las Vegas in 1993. He has also served as the director of restaurants and hotel sommelier for The Mirage Hotel & Casino. In addition to his work in the service industry and his academic career, Carmer is an entrepreneur. In 2003, he opened The Freakin' Frog, a beer and wine bar that offered more than 3,000 beers. Two years later, he opened The Whisky Attic, the nation's first whiskey-only bar, and stocked 622 different whiskeys—the largest whiskey collection then available, which has since grown to include almost 3,000 whiskey varieties. The Whisky Attic proved so successful that Carmer closed The Freakin' Frog and moved The Whisky Attic to a stand-alone location not far from the Las Vegas Strip.
Through his work and educational experiences, Carmer developed his own proprietary tasting system in 2008 that he calls the Carmer Spirits Taste Enhancement Method (CSTEM). He and his staff, led by director of education Jonathan Darrow, teach CSTEM to The Whisky Attic's guests. Rather than its unmatched whiskey selection, Carmer says that The Whisky Attic's value is based on the unique educational experience that his business offers.
"The Whisky Attic is a learning facility," Carmer explains. "It's the only learning facility of its kind in the United States. We are not a bar or lounge but a place where you come to learn how to do your best job of tasting alcoholic beverages. We don't pitch any product, so unlike most tastings where someone is trying to sell you something, The Whisky Attic is giving you the features, benefits and advantages of knowledge. That's really what we're doing. CSTEM is what we sell, so I don't want to go into any detail regarding it. You have to experience it yourself."
While each tour at The Whisky Attic is unique, Carmer says that the experience typically lasts around 90 minutes. The tour begins with an interactive and educational "Whisky 101" seminar in which the staff of The Whisky Attic discuss whiskey making and history, dispel myths associated with the spirit, and teach CSTEM. They also spend a good amount of time answering any questions about whiskey that guests might have.
"We're focused on setting the record straight and making sure that people get the proper information so that they can go about enjoying whiskey as well-informed as they can be."
The Whisky Attic's staff then has a conversation with every guest so they can develop a flavor profile assessment based on CSTEM. The staff then picks the whiskeys for each guest to sample based on their personal flavor profile. No one knows what whiskeys they'll be sampling before they enter The Whisky Attic, where tours range in price from $75 to as much as $10,000 per person.
"It's unlike any whiskey experience in the world," Carmer says. "It's a doctoral-level approach that's very collegial in personal interaction. It's not as staid as formal education can be. It's incredibly interactive. It's a conversation that's informative. We focus on different parts of your sensory perception. Based on my education and research, we've put together a way of narrowing down the choices, and we have some follow-up questions. We want to stretch the palate of the person in front of us. Sometimes they're brand-new, so we give them a taste of different things that they didn't know could be whiskey. Sometimes they only drink bourbon, but we give them things that might be similar to bourbon but stretches their palate so they know they don't have to have only bourbon. There are dozens of different angles that we take, so it's a very personalized bespoke tasting every time."
It's a tasting experience that's not limited to just The Whisky Attic. Both Carmer and Darrow regularly conduct tasting experiences off-site at locations around the world, including corporate events, private parties and staff training sessions for restaurants, bars and cigar lounges. At these off-site tasting sessions, either Carmer or Darrow opens up the tasting experience to spirits other than whiskey and beer and wine—whatever the host prefers. CSTEM is applicable to an entire range of taste experiences, including cigars.
"There is a huge overlap between whiskey tasting and cigar tasting," Carmer explains. "The cigar tastings follow the same path as CSTEM. We do a lot of corporate events and private events, and we do that there. The beauty of CSTEM as it pertains to cigars is that it doesn't matter what you've smoked before or what you've had to eat or drink. You can taste any cigar as if you hadn't had anything before enjoying that cigar."
Informative and fun, The Whisky Attic offers a unique experience for anyone interested in learning about whiskey or how to improve their tasting perception. It's a celebration that guests have been enjoying for more than 10 years because of the intimately interactive exploration and education that The Whisky Attic provides.
"People love the experience" Carmer concludes. "They love the romance of the product. We like to keep the romance going but add a little bit more knowledge behind it so that the experience can be that much more personal."
For more information about The Whisky Attic, including making reservations for a tour, visit whiskyattic.com.
This story first appeared in the November/December 2018 issue of Tobacco Business magazine. Members of the tobacco industry are eligible for a complimentary subscription to our magazine. Click here for details.
– By Stephen A. Ross, senior editor of Tobacco Business Magazine