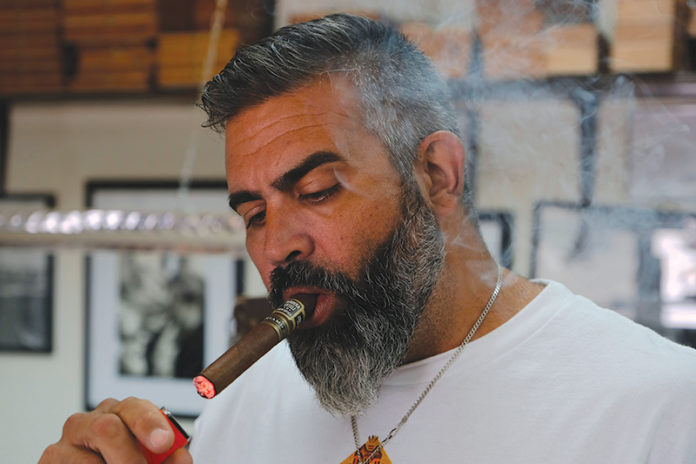 Drew Estate's master blender, Willy Herrera, got his start working at El Titan de Bronze in the early 2000s. He recalls his first days at the famed cigar factory located in Miami's Little Havana neighborhood where he learned the skills that would help him become one of the tobacco industry's most prolific blenders.
"I was always a smoker, so it wasn't new to me, but what was new was figuring out how to make a cigar, what made all the cigars different and blending. I got to learn all of that on the job every day," he explains.
His first blend was Redemption Sun Grown, an El Titan house brand. Cigars like Redemption Sun Grown challenged Herrera to make something that he would enjoy but that wasn't necessarily just for his own palate, a skill that he would work on and build over time as his career as a cigar blender progressed. He devoted time to teaching himself how to make and roll cigars, and he would experiment with different blends each day to challenge himself. It was in 2010, when he was approached by Jonathan Drew, the founder of Drew Estate, about joining Drew Estate that everything he learned at El Titan de Bronze would be put to the test.
After receiving the offer, Herrera flew down to La Gran Fabrica, Drew Estate's Nicaraguan cigar factory, to demonstrate his blending abilities over the course of two days. Both days were nonstop and led to the creation of three blends, one of which would eventually become known as the Herrera Esteli cigar brand and another that would become Drew Estate's Pappy Van Winkle Tradition. After this creative session, Herrera officially joined Drew Estate in 2011, becoming its master blender.
Crafting the Blend
Creating a blend is a skill that requires a lot of creativity balanced with good business sense. When Herrera is coming up with a new blend, he starts the process by identifying a gap in Drew Estate's vast portfolio of products. When developing the Herrera Esteli blend, Drew provided Herrera with all of the tobacco to which Drew Estate had access. Herrera says he felt like a kid in a candy store with so many options and describes the weekend he spent creating the blend as "intense." As he had practiced back at El Titan de Bronze, he learned to blend within the gap in Drew Estate's portfolio.
Whether it's a wrapper type or product type, once that "missing piece" has been identified, Herrera delves deep into his creative process to create something unique. His own personal palate preferences come into play when he's testing the standards of quality for a particular blend. Once it gets his seal of approval, the cigar is tested several times and undergoes different periods of aging to ensure it will shine over time.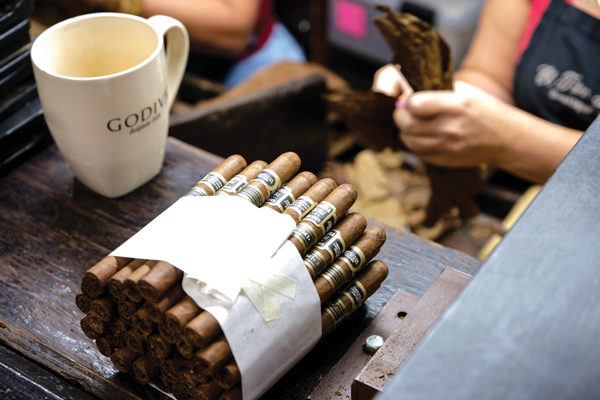 The Herrera Esteli blend is special to Herrera because it was his first large-scale brand and also his first blend created specifically for Drew Estate. The company realized it needed a product that both retailers and consumers would recognize, so it standardized the sizes across all four lines and unified the appearance of the boxes.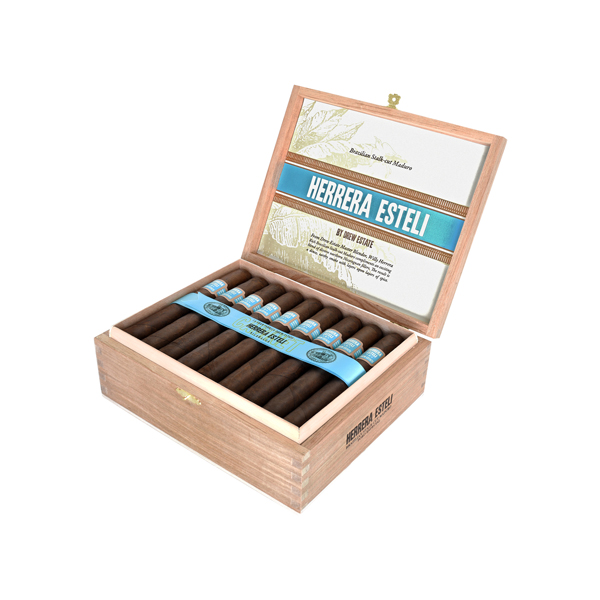 Marketing the Blend
Creating a blend can be a long and demanding process, and those efforts are in vain without the proper marketing and branding. Herrera says he has learned a great deal from Jonathan Drew regarding not just how you sell a brand but how you build a culture around both your company and the products that retailers and consumers find welcoming. Herrera agreed to have his name attached to the Herrera Esteli brand because, much like the culture at Drew Estate, he wanted to make a loud statement, and as he was making his debut on the world stage of premium cigars, he wanted everyone to know who he was and who he was working with.
Blending the new Herrera Esteli Miami gave Herrera the chance to return to his roots at El Titan de Bronze and work with its talented group of cigar rollers. The Herrera Esteli Miami is crafted with a lavish Ecuadorean Habano oscuro wrapper over a rich Ecuadorean Sumatran binder and select fillers from the Dominican Republic and Nicaragua. Due to the special nature surrounding this new blend that extends the Herrera Esteli line, the company has limited its availability so that only Drew Diplomat retailers have access to it. The other new blend, the Herrera Brazilian Maduro, is Herrera's take on Mata Fina tobacco, which he describes as being floral and earthy.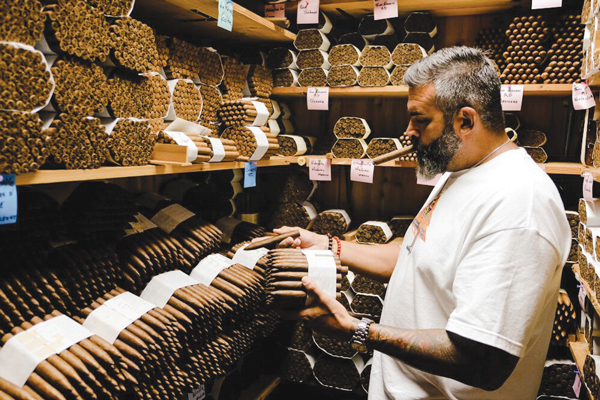 "We use it typically as a binder or accent tobacco in the filler, but I wanted to showcase its dynamic and unique texture. This cigar is very different from the Norteno in terms of flavor profile," he explains.
To promote the Herrera Esteli brand, Herrera finds that engaging with consumers gets the best results. He regularly attends events like the annual Rocky Mountain Cigar Festival or Drew Estate's own Barn Smoker events across the U.S., finding that those one-on-one interactions are where the brand truly comes to life and thrives. Drew Estate's retail partners also play a critical role in how the brand succeeds, another reason why you'll find Herrera on the road when he's not busy blending, visiting with retailers that carry the brand and doing in-store events.
"I feel it allows me to connect with them one-on-one over a cigar, and they begin to understand who I am and how the Herrera Esteli brand fits into the Drew Estate portfolio," he says. "In addition, I have a series of Herrera Esteli Tienda Exclusiva cigars that are exclusive to some of our strongest Herrera partners."
With the recent refresh the brand was given, Herrera believes all lines in the brand will stand out to cigar smokers as they find them on the shelves in humidors across the U.S. and beyond. Because it shares his name, the Herrera Esteli brand is important to him, and he believes his legacy will be found and defined by the enjoyment consumers get from all the blends he has created over the years, including Herrera Esteli. His advice for others in the tobacco industry who are responsible for creating products with a lasting impact that smokers will enjoy is simple: Keep working and don't give up. Success in the tobacco industry is hard work, and settling for anything less than great is not an option for those looking to become a master of tobacco like Willy Herrera.
This story first appeared in the March/April 2019 issue of Tobacco Business magazine. Members of the tobacco industry are eligible for a complimentary subscription to our magazine. Click here for details.
– Story by Antoine Reid, an editor and digital content director for Tobacco Business Magazine. You can follow him on Instagram @editor.reid.