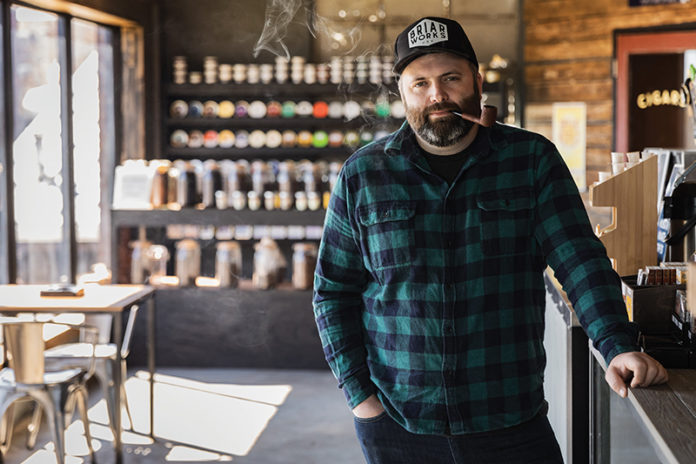 As a former professional musician who toured the world with the Christian rock band Sanctus Real, Pete Prevost knows the value of teamwork. Something magical happens when people contribute their individual skills to a collaboration that creates a work of art that transcends the sum of its parts. Rock bands, choral groups and orchestras depend on the contributions of each of their members to entertain audiences and achieve that feeling of camaraderie that emerges when people set aside their self-interests and work together.
Conversely, as a pipemaker, Prevost also appreciates the intense satisfaction of individual creative efforts. Taking a block of briar and sculpting it into a functional work of art at the high-grade artisanal level is an immensely personal endeavor. Each pipe an individual carver creates leaves something of his or her own personality and aesthetic behind for others to enjoy. These bits of personality that are expressed in each pipe become hallmarks of that pipemaker's identity—an unofficial badge that announces to the world the person who carved it.
Prevost had started making pipes like so many others had done—he bought a pipemaking kit and carved his first pipe in his spare time while on the road with Sanctus Real. He found that pipemaking was a relaxing hobby, and when he'd had enough of the touring lifestyle and settled in Nashville, Tennessee, he became more interested in taking pipemaking from a hobby to a profession. He met Jody Davis in Nashville, and the two men quickly formed a strong bond. Davis had been a professional musician with the Christian rock group Newsboys and was one of Prevost's favorite guitarists. Davis had quit touring with Newsboys for a period of time to care for his daughter with special needs, and he turned to making high-grade handmade pipes to earn a living. Prevost and Davis spoke often about life on the road and making pipes, and one day in 2008 Davis introduced Prevost to Todd Johnson, another pipemaker living in the Nashville area.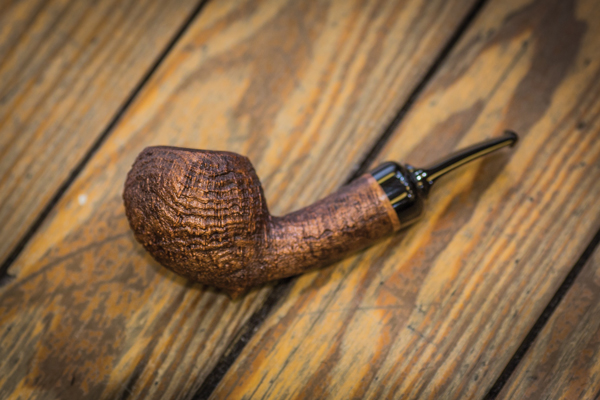 Johnson is one of the select few pipemakers in the world whose work is almost always sold before he has completed it, thanks to a coterie of dedicated collectors who think nothing of spending thousands of dollars for one of his pipes. Johnson had been studying for a ministerial career, but the urge within him to create was too strong to ignore, and he turned to pipemaking. He trained with some of the most talented pipemakers in the world, including Tom Eltang, and had developed a style all his own, which melded ancient Greek stylistic motifs with modern Danish aesthetics. Johnson had a particularly large workshop, and he invited Prevost to use it, and Johnson then shared tips and steps that he had incorporated into his own pipemaking process.
"Todd sort of took me under his wing and taught me everything I know about pipemaking," Prevost says.
In 2012, Johnson began sharing with Prevost an idea he had been considering for a while. Johnson had developed a strong core of wealthy Chinese collectors who bought almost all of his production. Johnson thought that a less expensive series of factory-made pipes for the Chinese market—priced at around $100 to $150 each—might prove to be immensely profitable. He needed help to start production and invited Prevost to join the fledgling pipe factory. At the time, there was no Chinese pipe factory, and the idea seemed like a slam dunk, but it actually turned out to be a losing proposition. Thanks to tax duties and shipping costs, there was no way they could sell the pipes in China for prices that would make them affordable for the average pipe smoker. The idea seemed dead.
"Unless we lived in China, there was no way that we could keep the quality of the pipes what we wanted it to be and price them affordably," Prevost says. "I threw out the idea to Todd about making the pipes for the U.S. market. There is hardly anything like a high-quality American-made factory pipe anymore, and there was a niche to fill. That's how BriarWorks was born in 2013."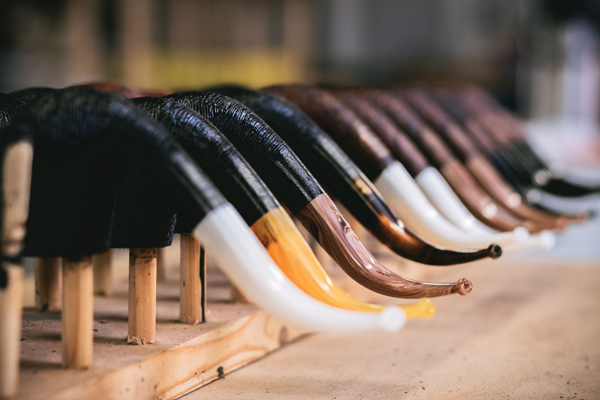 Both Johnson, who left BriarWorks in 2017 to dedicate more time to his handmade pipe brand, and Prevost attracted pipemaking friends from around the U.S. that they had met at various pipe shows to the Nashville area to be a part of the BriarWorks team. Adebayo, Shalosky and Redmond each joined BriarWorks shortly after the project got off the ground. They liked that the BriarWorks studio gave them room and equipment to pursue their own pipemaking brands while also building the collaborative BriarWorks brand. The teamwork atmosphere and the effort that goes into making approximately 5,000 pipes a year have led each of the pipemakers to improve their craft, yet another factor in choosing to move to Nashville and join the BriarWorks team.
Despite having a crew of steadily improving pipemakers who could demand higher prices for their work, most BriarWorks pipes remain in the $100 to $160 price range. The competitive advantage for the company comes from the equipment it uses, the raw materials it sources and the workflow that the four pipemakers have established to remain true to the reason the company exists in the first place. The company obtains mostly crosscut ebauchons and some plateau briar from Romeo Briar in Italy and Makis Minetos from Greece, and it orders custom-made Italian acrylic stems for its mouthpieces.
"We're not buying the first-grade plateau briar for the factory, though we do get some plateau briar for the Signature series pipes and for particular occasions where we want good straight-grain blocks," Prevost explains. "That's a difference between our handmade pipes and the factory pipes—we use a higher-grade set of blocks for the handmade pipes. We are really happy with the quality of the stems. We want them to look like they were hand-cut. We're really proud about having a consistent size with the width of our button and the thickness we get. We get a lot of compliments for how comfortable our stems are for a factory pipe."
Most remaining pipe factories around the world use old equipment, such as fraising machines, that require special parts for every shape they make. This requires an additional expense that BriarWorks avoids by using modern machines, including a CNC machine that cuts pipe shapes from briar blocks. One of the professional pipemakers carves an original model that is then either copied on a 3D scanner or has its measurements entered into a computer. The CNC machine then cuts briar blocks with precision, following that model or measurements.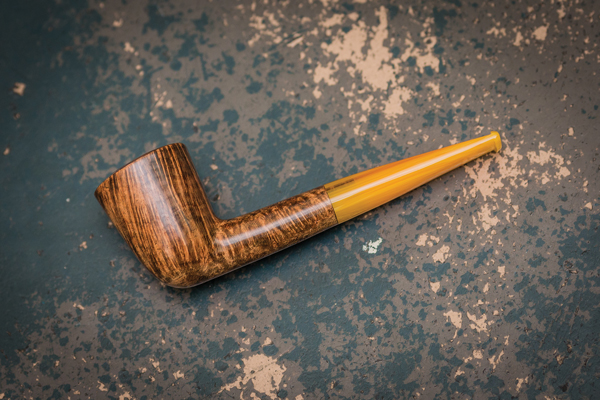 BriarWorks produces four different pipe series: Classic, Original, Signature and Moonshine. Classic is made up of pipes with designs that have been inspired by the classic shapes turned by the old French and English pipe factories, such as the billiard, Dublin, apple or bulldog. "Those are inspiring to us, and they were done really well," Prevost shares. "We make little tweaks, but we are inspired by those really iconic classic shapes." Original is a series of shapes that each of the individual BriarWorks pipemakers has designed exclusively for the line. "Original is one of the newest lines. It's more unique shapes
that are particular to what that pipemaker would create as a handmade." Signature is a BriarWorks calabash made completely from plateau briar that features interchangeable magnetic caps. "The interchangeable caps allow people to dedicate each cap to a particular type of tobacco they like to smoke."
Moonshine is a brand that BriarWorks started making for Jonathan Lavezzo, who established Moonshine Pipes as a low-priced handmade pipe series. His series proved to be popular enough that he enlisted BriarWorks to help fill orders. A little later, BriarWorks and Lavezzo collaborated on three shapes for the Moonshine line, which has now grown to 10 shapes. Lavezzo sold Moonshine Pipes to BriarWorks after establishing a very successful Moonshine fly-fishing rod company. The Moonshine pipe series has been very profitable for BriarWorks.
"All of the shapes in the Moonshine line are more compact and made in playful sizes," Prevost explains. "The proportions on the pipes are unique, so they don't come off as classics. We also have fun with marketing the line by giving the shapes fun names. We sell as many Moonshine pipes as we do of the other lines combined."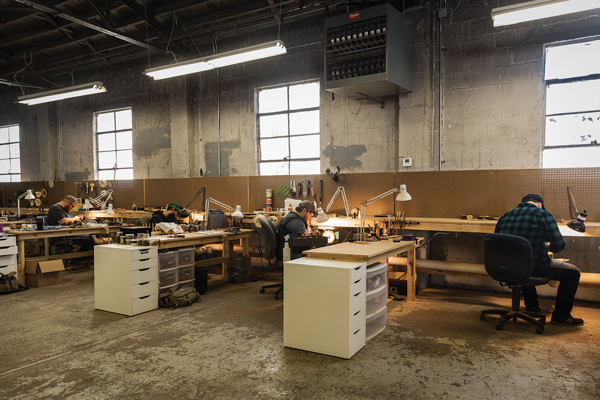 Pipes and More
In 2017, BriarWorks moved from its workshop in Nashville to a new and larger facility on Main Street in downtown Columbia, about 45 minutes south of Music City. With more space in which to operate, the BriarWorks team established a retail operation to sell not only its own pipes but also bulk and tinned pipe tobaccos, cigars, craft beers and sodas. The BriarWorks store also features a comfortable lounge as well as several entertainment options, including darts, an arcade game and an HD projection television. The store also allows customers to view the BriarWorks team in action, thanks to a large window in the wall that separates the retail and lounge portion from the workshop. People who are interested in the pipemaking process can watch the BriarWorks staff construct a BriarWorks pipe during the day or craft their individual pipe brands at night. BriarWorks' production team also staffs the store, which further cements the relationship between the production and retail sides of the business.
"We wanted to create more of an experience for customers, so we moved the shop and created a destination," Prevost says. "It's become a very big part of our business—a retail store that's open seven days a week that's become a popular hangout spot. It's got a nice, big walk-in humidor with a great cigar selection, a great pipe and pipe tobacco selection, and a nice bar with a bunch of beers on tap. It's a great local spot for people, and we're right next door to a local brewery, so we've created this culture in one corner of downtown of a really great hangout spot for people."
This story first appeared in the May/June 2020 issue of Tobacco Business magazine. Members of the tobacco industry are eligible for a complimentary subscription to our magazine. Click here for details.
– Story by Stephen A. Ross, editor-in-chief of Tobacco Business Magazine.