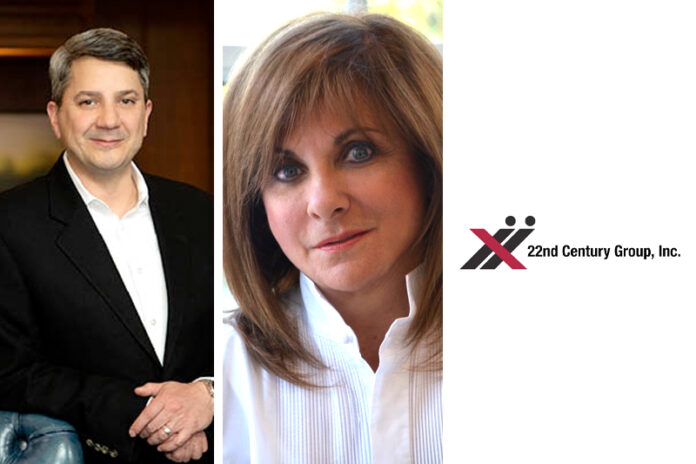 22nd Century Group, makers of reduced nicotine tobacco products including the VLN (very low nicotine) brand, has announced changes impacting its management team. Michael Zercher, the company's president and chief operating officer, will leave the company, effective Sept. 30, 2022. John Miller, who leads the company's tobacco business team, will take on the tobacco-related duties of the chief operating officer's role. James A. Wish, who serves as CEO, will assume the title of corporate president after this change.
Mish offered the following comments in a press release statement:
"With exceptionally successful VLN pilot results in hand, 22nd Century is expanding sales and planning rollouts in strategic regions across the United States. In order to coordinate all of the critical elements of this expansion plus additional planned market launches, John Miller, who already leads our tobacco product, marketing and partnership efforts, will assume full operational responsibility for the tobacco product lines, bringing to bear his more than 30 years of industry experience to direct a fully integrated national VLN sales strategy.
"On behalf of the Board of Directors and the entire Company, I thank Mike for his work at 22nd Century Group, including his important role in helping bring VLN through the regulatory process to secure the first and only FDA Modified Risk Tobacco Product marketing order ever granted to a combustible cigarette. Mike has also been instrumental in developing our initial VLN industry partnerships and successful Chicagoland pilot program. As a result, 22nd Century represents a completely new type of tobacco business focused on disrupting the industry and, most importantly, helping adult smokers to smoke less. We thank Mike for the incredible success he has helped the Company achieve and wish him well in his future endeavors."
In a separate release, 22nd Century Group announced that it had appointed accomplished media executive Lucille S. Salhany to its board. In a press release, the company described Salhany as, "a highly accomplished media executive with extensive experience in assessing and understanding the consumer landscape, positioning unique products for successful launch utilizing digital media, corporate strategy, and entrepreneurial ventures."
Salhany is often recognized for her appointment as the first woman chair of a major broadcast network. She has a noted track record of successful growth and expansion in the industry. She served as chairperson of the Twentieth Television division of Fox and made history as the first woman to head a major television network when she accepted the chairmanship of Fox Broadcasting. Salhany went on to service as CEO and president of United Paramount Network (UPN) and helped launch it as the fifth major broadcasting network in the U.S. She ha served on the Board of Directors at Echo Bridge Entertainment, Compaq / Hewlett-Packard, Fox, Inc., Avid Technologies, and American Media, Inc.