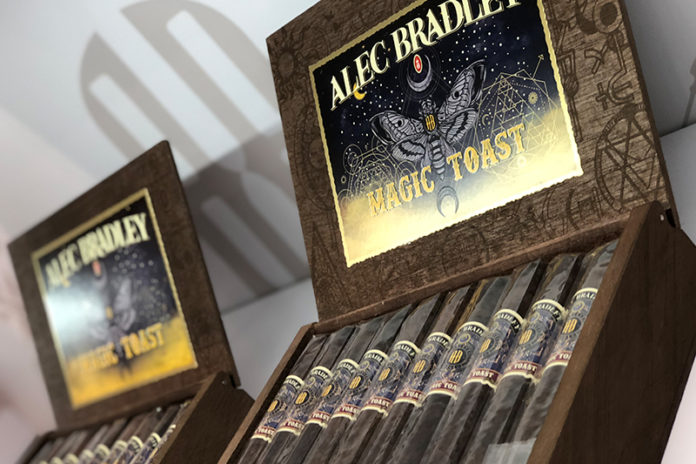 Retailers often ask the question, "What's new?" At IPCPR each year, manufacturers stand ready to answer that with new releases that will make their debut this fall or early next year. Here's a rundown of what you may have missed at the show and what you need to stock on your shelves.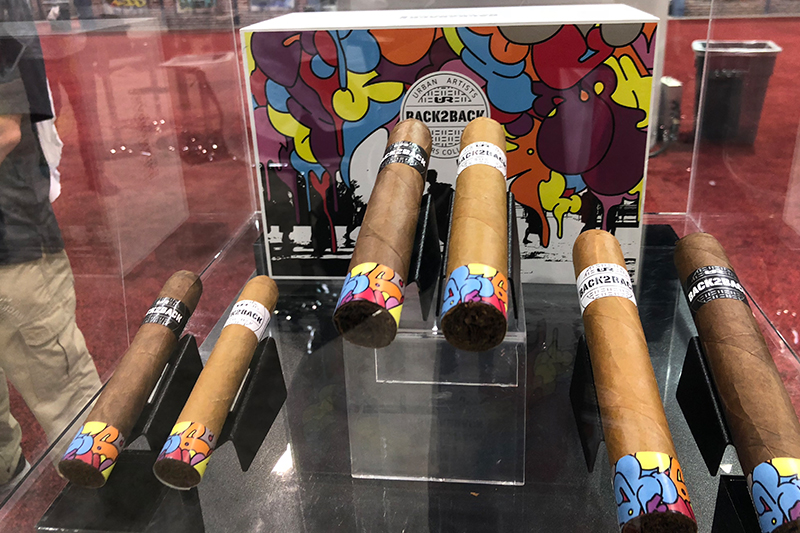 Back2Back
UR New York has worked with Davidoff for years, serving as the brand ambassador for Zino Platinum and also working within the Davidoff Art Initiative program for the past five years. The UR New York team has also been creating unique artwork for Davidoff's retailers' lounges. The relationship has grown and evolved over the years, and this year it produced another unique collaboration: UR New York's own cigar brand with Davidoff. Back2Back comes in both a Connecticut and Nicaraguan blend, and it features UR New York's signature urban art style. The companies took the ideology of creating a buzz and creating things "back to back" when creating their own blend. "It's this moving forward notion of pleasure, enjoyment, industry and art," explains brand owner Fernando Romero, of UR New York.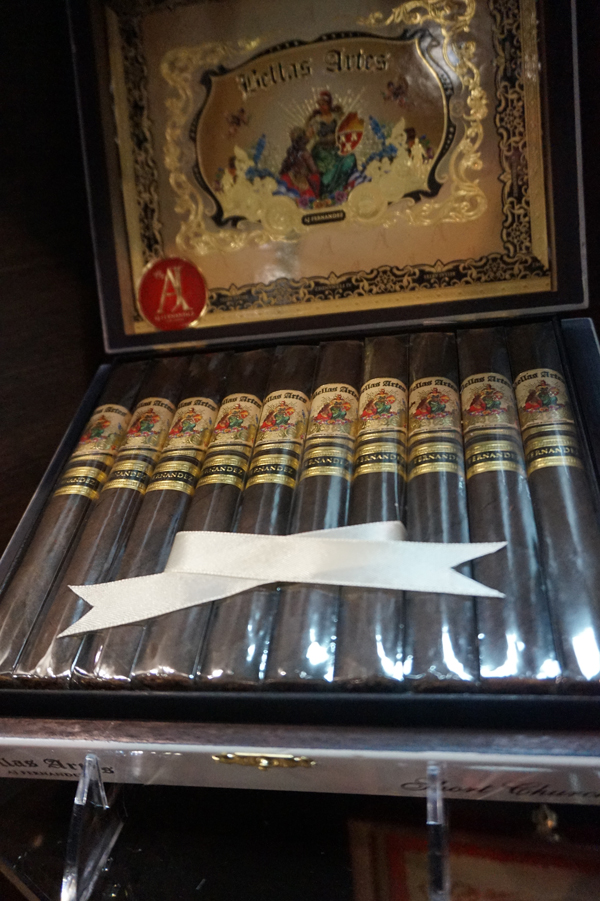 Bellas Artes Maduro
The original Bellas Artes from A.J. Fernandez Cigar Company was inspired by Fernandez's visits to the national art museum in Havana, Cuba. The new Bellas Artes Maduro will serve as a complement to the original Bellas Artes. It features a dark Mata Fina wrapper, a Mexican San Andres binder and Fernandez's Nicaraguan filler tobaccos. [click here for more information]
Cimarron
The Cimarron cigar is an homage to the Cimarron region of the U.S., reveals El Artista's Radhames Rodriguez, who once took a trip to the Rocky Mountains during his first year in college in New York. He was impressed by the Cimarron Valley, mountains and river during this trip and was inspired to build a cigar around this experience. Cimarron will feature an Ecuadorean Connecticut Shade wrapper and a Dominican Negrito binder that is grown in El Artista's farms in and around Tamboril, Dominican Republic, and it will boast a blend from various countries, including T-13 Hybrid, a blend that was developed by Rodriguez. [click here for more information]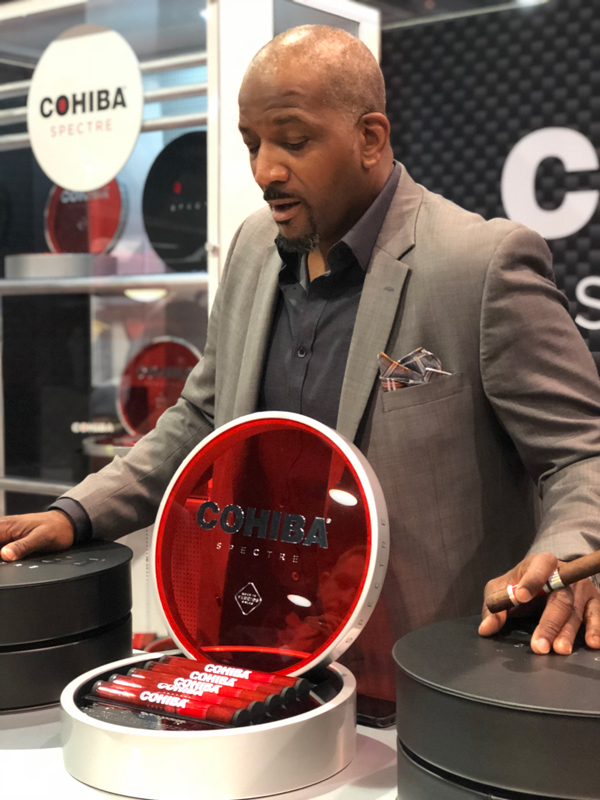 Cohiba Spectre
Luxury and prestige meet craftsmanship with the new Cohiba Spectre, a small-batch release from one of General Cigar Company's leading brands. Spectre features eight varieties of tobacco from different growing regions, each selected for their ideal climatic conditions, flavor and complexity. In addition to the standout blend, Cohiba Spectre also features unique packaging: a circular red and silver box unlike anything seen on the IPCPR show floor this year. Only 180 boxes of these cigars have been produced. Each box has an MSRP of $900, and each cigar will sell for $90. [click here for more information]
Court Reserve XVIII
Court Reserve XVIII pays tribute to Crowned Heads' loyal supporters and followers and harkens back to the brand's beginnings in 2011. Since the company's launch and the production of its first cigar, Crowned Heads has garnered a legion of dedicated cigar enthusiasts who have quietly been referred to as the brand's "court." The company defines this court as "an extended royal household, which in some cases would be comprised of thousands of individuals." To create this new cigar, Crowned Heads went back to Tabacalera La Alianza, S.A. and consulted with well-known cigarmaker Ernesto Perez-Carrillo. The tobaccos for this cigar were selected on the basis of their small-batch availability and aging. [click here for more information]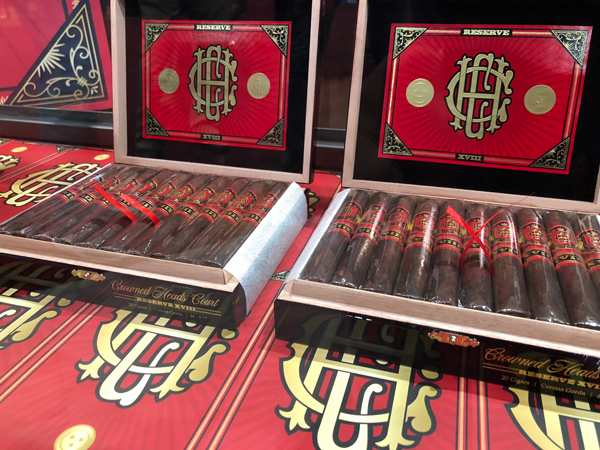 La Aurora Barrel Aged by Karl Malone
Retired basketball player Karl Malone is a known cigar aficionado, having made several surprise appearances at the Procigar Festival in the Dominican Republic over the years. Now Malone is taking his love of cigars to the next level by releasing his own, the La Aurora Barrel Aged by Karl Malone, which debuted at the 2018 IPCPR show. Made by partnering with the Dominican Republic-based Hernandez family and La Aurora Cigars, the new La Aurora Barrel Aged by Karl Malone features tobacco that has been aged in rum barrels for six months and taken on the aromatic notes of the barrel. The cigars underwent an additional three months of aging to bring out the flavors of wood, cinnamon and spice.
Liga Privada 10-Year Aniversario
To commemorate the 10th year of the highly rated Liga Privada brand, Drew Estate is releasing the Liga Privada 10-Year Aniversario. The 10-Year Aniversario is described as a full-throttle beast of peppery spice wrapped in a robust Criollo capa from the heart of the Connecticut River Valley, where the company grows the tobacco used in its Liga Privada brand. This special cigar features a San Andres Otapan Negro ultimo Corte capote that gives the cigar a razor-sharp spice and burn along with well-aged Nicaraguan and Honduran tripa leaf tobaccos. [click here for more information]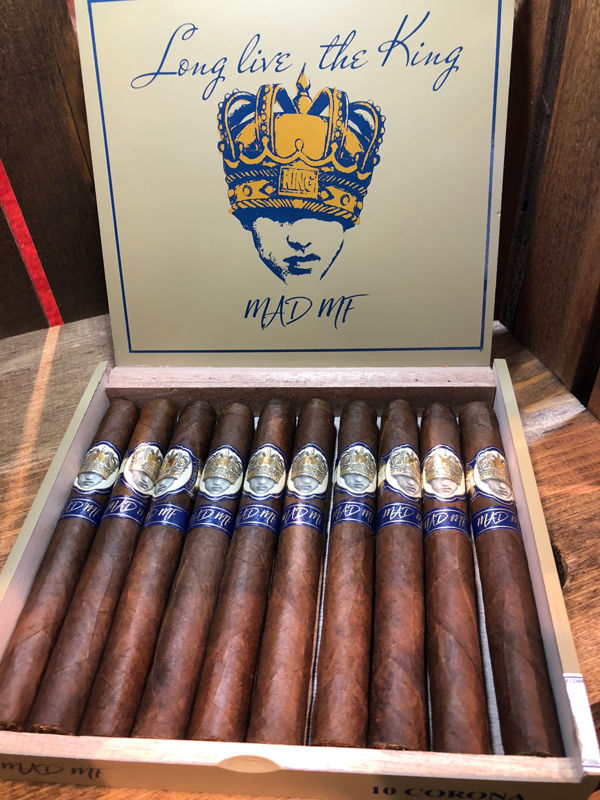 Long Live the King Mad MF
Caldwell Cigar Co.'s Long Live the King Mad MF is a limited release that Robert Caldwell describes as a maduro take on the original Long Live the King. That being said, it's not the same blend but has a similar smoking profile. It's a medium- to full-bodied cigar that offers a rich, creamy smoke with tons of character. It will be available in four different vitolas, and only 75,000 of these cigars will be produced.
Magic Toast
Alec Bradley Cigars' president and founder, Alan Rubin, describes his company's latest cigar as a well-balanced, medium- to full-bodied cigar that has a natural sweetness to it. The name was inspired by Rubin admiring a tobacco field with a flashlight in Honduras in the middle of the night, an experience he describes as being almost magical. He and his business partner, Ralph Montero, followed the experience with a toast of whiskey, which led to the name "Magic Toast" when tobaccos from that field were used for a new blend. The cigar features a double binder from Nicaragua and Honduras and is rolled with a Honduran wrapper.
Rocky Patel ALR
The small-batch release of Rocky Patel's ALR, which is an abbreviation for "aged, limited and rare," was first conceived by Rocky Patel himself three years ago, after he blended a cigar that had a smooth Habano seed wrapper, Nicaraguan fillers and a Nicaraguan binder. Patel decided to age this blend and ordered a short production run of 100,000 cigars of what would ultimately become ALR. Only 1,500 boxes will be released, with the remaining ALR cigars being held in Patel's personal reserve. [click here for more information]
This story first appeared in the September/October 2018 issue of Tobacco Business magazine. Members of the tobacco industry are eligible for a complimentary subscription to our magazine. Click here for details.