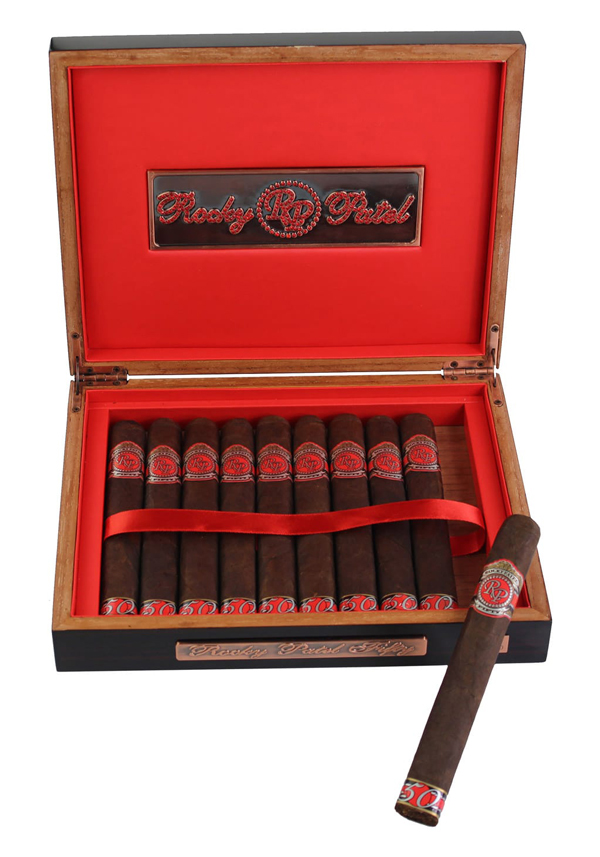 Rocky Patel Premium Cigars will be bringing back another classic from its portfolio. The Rocky Patel Fifty, first released in 2011, will return as a small batch release in one vitola–a 6 1/2 x 52 Toro.
Rocky Patel Fifty will make its return at this year's International Premium Cigar & Pipe Retailer (IPCPR) convention and trade association in Las Vegas, July 10-14. With a shipping date planned for late July, 1,000 lacquered 10-count boxes were produced, showing off the Toros' attractive, eye-catching setting replete with familiar crystals and brushed copper.
Originally, Rocky Patel Fifty was a limited edition cigar with only 2,000 numbered 20-count boxes being released. Three vitolas–Robusto, Toro, and Torpedo–were introduced to the market at IPCPR 2011 to commemorate Rocky Patel's 50th birthday.
"We're excited to have the Fifty Toro back in the portfolio," said Rocky Patel, the company's President and CEO. "Over the past few years, we were asked repeatedly for this cigar. It was the blend. It was the box. It was the whole luxurious package that the Fifty represented."
The relaunched version of Rocky Patel Fifty will sell for $21 a stick, the same as the original cigar. It will also stay true to the original's blend profile, featuring an Ecuadoran Habano-seed Oscuro wrapper, Nicaraguan filler and an Nicaraguan binder.
For all the latest news from Rocky Patel Cigar, visit rockypatel.com.