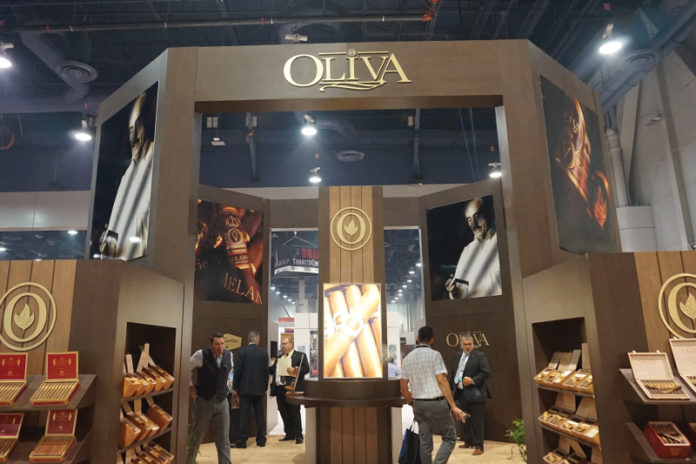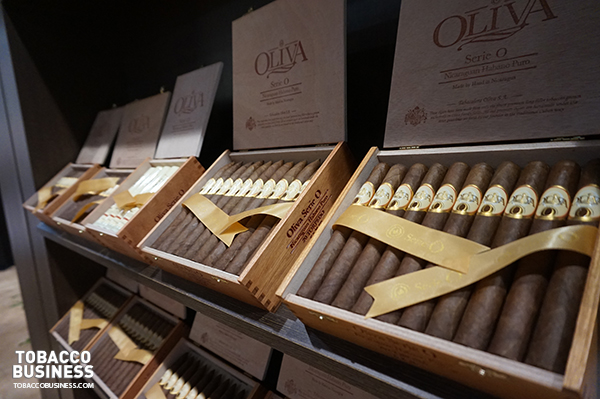 At the front of the show but positioned to the right as the last booth was Oliva. Oliva was acquired by J. Cortès in July 2016 so many were curious what this big change would bring to the popular family-owned brand. As year later, we saw the results–it was business as usual, but that was a good thing.
With J. Cortès also being a family-owned brand, the booth in many ways showed the marriage and coming together of these two brands and their products. Both J. Cortès and Oliva shared the spotlight but that light shined a bit brighter and was more focused in on Oliva.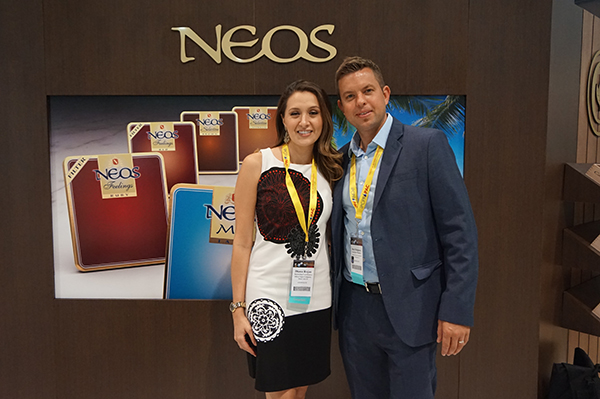 Many cigar companies had nothing that could be considered new to show, due to the impact of the FDA Deeming regulations. Oliva, however, managed to bring a new product. The Gilberto Reserva will be the company's first new cigar line since 2012. It's been in development for years now and has a Indonesian Sumatra wrapper, a Ecuadorian binder, filler from Nicaragua and will be available in five different vitolas. MSRP for individual sticks will range from $5.25 to $6.40. There will also be another version of this cigar that has an Ecuadorian Connecticut wrapper.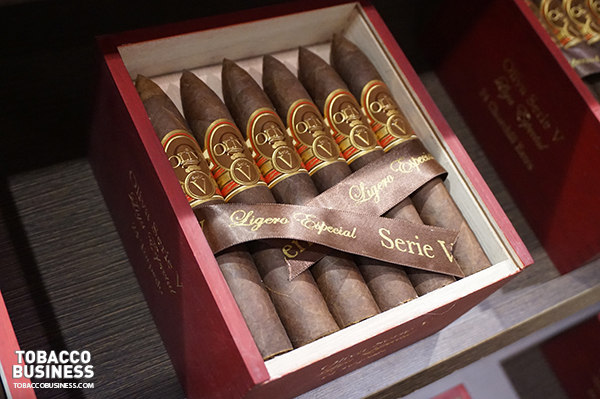 Like many companies, Oliva prominently featured some of its predicate products that cigar enthusiasts are likely familiar with already. There was NUB, a brand that was created to quickly hit its "sweet spot" when lit, delivering a satisfying balance of flavor and strength. Oliva Serie V Melanio was another of Oliva's older but still popular cigar brands that the company featured and continually pushed at this year's IPCPR show.
One of J. Cortès' products featured in the Oliva booth is Neos. J. Cortès most popular products are cigarillos which are a bit more popular in Europe than they are here in the U.S. Neos was previously distributed by J.C. Newman but Oliva has now taken over the distribution of the brand.
For all the latest from Oliva Cigars, visit olivacigar.com.
– Story and photos by Antoine Reid