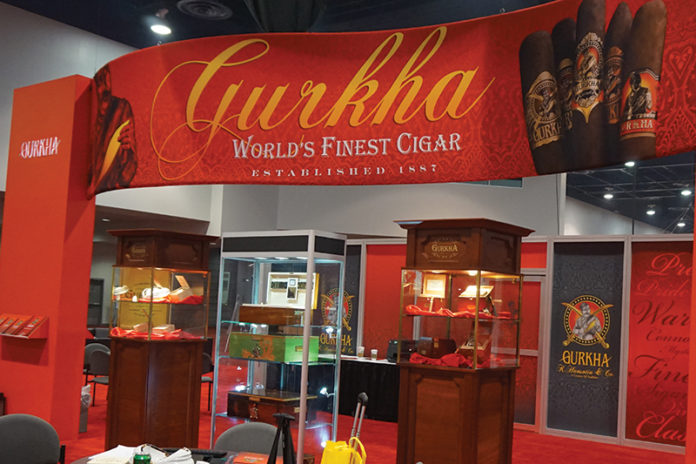 Because of the FDA regulations, coming out with new blends was nearly impossible. Gurkha is fortunate enough to be among the select cigar companies to have many blends in its portfolio that were on the market and released ahead of the cutoff date imposed by the FDA, so many in fact that Gurkha chose to re-introduce and feature them during this year's IPCPR. As the company revealed ahead of the show this year, everything that was "new" in its booth this year was actually a predicate blend that's being brought back to market. Though the featured products were old, Gurkha treated them like new and their booth was just as big and imposing as in previous years. Here's a run down of some of it's featured IPCPR products: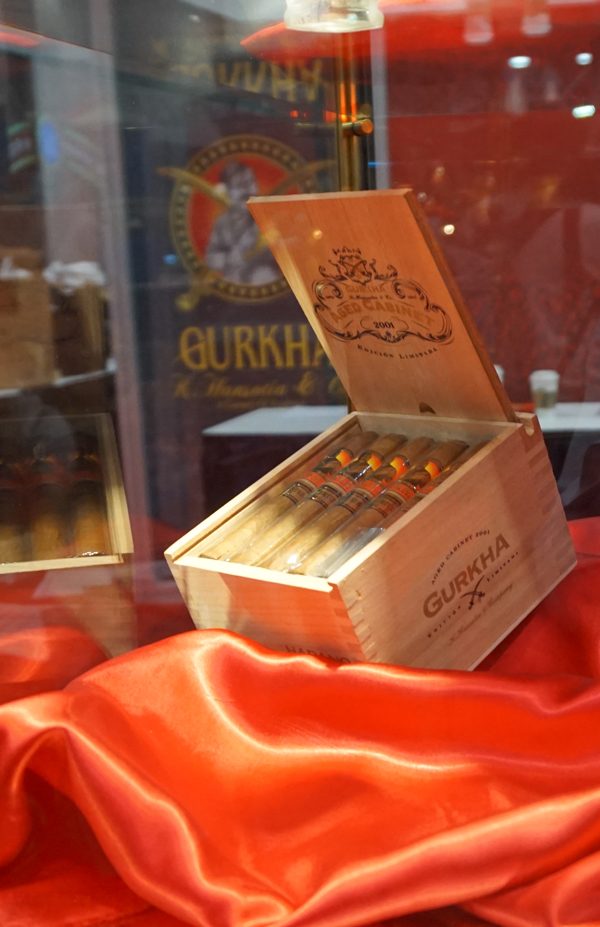 Gurkha Malt Collection:
Different types of cigars that would pair well with different types of drinks. These cigars are not infused, they just pair well for your drink of choice. These cigars can be bought individually.
Gurkha Grand Reserve:
These infused cigars is Gurkha's traditional and most popular cigar that probably helped put it on the map in terms of a premium cigar. The Ron Abuelo and Hartfield & Company Bourbon, playing off the popular trend of infusing cigars with bourbon.
Havana Legend:
Havana Legend was one of Gurkha's well received cigars that it chose to re-introduce at this year's show. It has Nicaraguan fillers, an Ecuadorian Habano wrapper and overall great spice. It's going to give you that great Earth wood. You'll be seeing this cigar in store toward the end of the year.
Cellar Reserve:
Being the 10-year anniversary of Cellar Reserve, it's a go-to for Gurkha's premium cigar offerings. For anniversary of the 10-year Aged, Gurkha is releasing a limited number of boxes of these cigars. A red band was added to the cigar just for this special re-release. A tubos was added also (also for duty free versions). A tubos 3-pack was added for those traveling and in need of a great quality cigar.
Aged Cabinet:
Since it had previous success, it's being brought back with a Connecticut and Habano wrapper.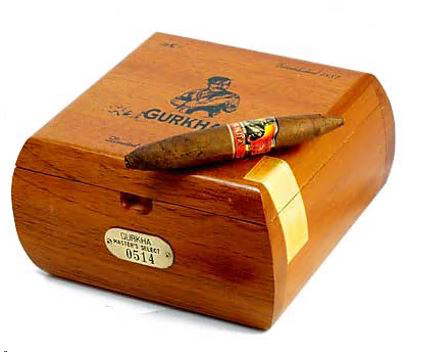 Master Select:
Coined the "OVB" which stands for "original vintage blend", Gukrha went back to the Olivas family who had everything used for the original release of the cigar. Gurkha wanted this to be exactly like the first release of the cigar–the original packaging, the same blend, the same experience of the first release.
Merchandising:
Knowing that shelf space is very important and that a typical cigar store and humidor space can only accommodate but so many boxes, Gurkha came up with trays that show off a variety of Gurkha cigars without taking up too much space. It's still branded a certain way, allowing the consumers to know and see what Gurkha products are available.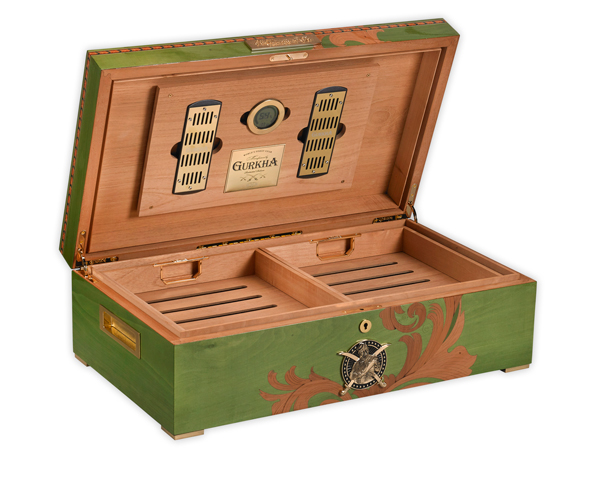 Also showcased were the Royal Humidor, with the green being the most popular. Gurkha is currently playing around with new color options including red, hoping to find just the right shade. Gurkha also has new ashtrays, cutters and growlers that will be released. While a growler may seem out of the norm considering Gurkha is all about cigars, Gurkha has a focus on spirits and wanted to tap into the big craft beer boom happening, thus decided entering into that new category was best done with a growler.
For all the latest from Gurkha Cigars, visit gurkhacigars.com.
– Story by Antoine Reid