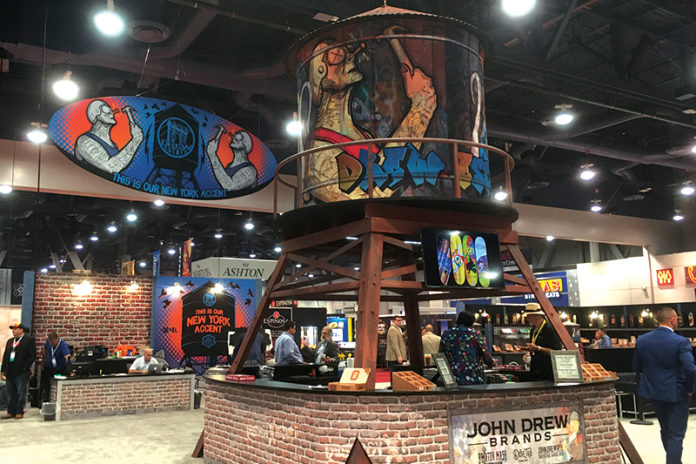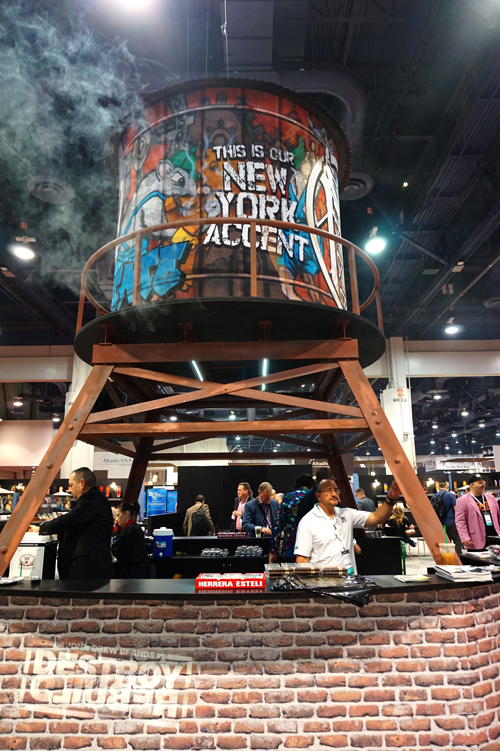 Whenever speaking of Drew Estate, I often sum up the company and what it does as "expect the unexpected." Drew Estate has made it its mission to disrupt the industry and has never tried to "fit in" with the other cigar companies but has always, in the end, shown great respect and understanding of the art and lifestyle surrounding cigars.
IPCPR 2017 was a bit of a re-launch of Drew Estate. Months ago, Jonathan Drew returned to the reigns of the company to serve as its President; it's shaken down its sales department to better serve its customers; it's turned its retailer loyalty program Drew Diplomat into an interactive community and experience for consumers; it's even starting to cross promote and expand its focus to touch the spirits column. While some may see Drew Estate as the mavericks of the industry, they'd be wise to take note and figure out why it and its leader has such a loyal and broad following.
Drew Estate, perhaps only rivaled by General Cigar, managed to have and onslaught of new products to showcase at IPCPR 2017. To signify the change that's been sweeping through the company and its brands, the iconic bridge that people have come to expect at each trade show was noticeably gone. In its place was tall and eye-catching water tower, which figures into one of it's big releases this year. Situated at the center of the booth, the water tower was also where you could quench your thirst with a taste of Jonathan Drew's new spirit products [more to come on that later]. This year's releases ranged from a Florida-inspired cigar to the company's most popular cigars being released in convenient tins. Here's what Drew Estate showcased during IPCPR 2017:
4×32 Tins
The best place to start is with the main attraction in the booth–the water tower. What is it about and why is it so important that the company ditched its iconic bridge? The company wanted to compete in the 4×32 segment so its packaged some of its most popular cigars in 10-count tins. Cigar enthusiasts will be able to enjoy 4×32 versions of ACID Krush, Herrera Estelí, Liga Privada, Undercrown Shade, Tabak Especial, Kentucky Fire Cured and Larutan in 10-count tins. To help push these products, retailers can take part in a special incentive program and they can also buy an attractive water tower display for their own store.
Undercrown Sun Grown
Undercrown is arguably one of Drew Estate's most popular brands with Undercrown Shade being the company's main focus in the past few years. Just when you thought there was nothing more to come from Undercrown after Shade, Drew Estate's stepped up with Undercrown Sun Grown. This cigar contains Sumatra Ecuadorian tobacco, something Jonathan Drew revealed the company had been trying to secure for 15 years.
Florida Sun Grown (FSG)
Drew Estate's teamed up with Jeff Borysiewicz, owner of Corona Cigar Co., for a special cigar line–Florida Sun Grown (FSG). At the show, we learned that in the past, Florida was one of the biggest producers of tobacco in the United States. Borysiewicz wanted to reignite that market so began growing tobacco in Florida and now Drew Estate is using some of it for its latest cigar line, the FSG.
Pappy Van Winkle "Tradition"
A cigar that will be exclusive to Drew Diplomat retailers, the Pappy Van Winkle "Tradition" was a blend that was developed by Drew Estate's Master Blender Willy Herrera in his early days with the company. They held off on releasing it for a special occasion and found it with the company's ongoing partnership with the high-end bourbon brand Pappy Van Winkle. "Tradition" will be released around the same time as Pappy Van Winkle's sought after bourbon release later this fall.
ACID Green
Drew Estate's going "green" with the use of a candela wrapper on its popular ACID infused cigar. The ACID line has been getting a lot of love and attention from Drew Estate in the past year and now the candela wrapper is giving ACID a new twist. Drew Estate is also pushing the ACID line in G-Fresh packages which have perfect humidity and will give cigar enthusiast a near perfect smoke and quality cigar at a great price point.
A Look Ahead
There's a lot going on at Drew Estate with new releases planned out into the next year, meaning Drew Estate is here to stay. In case you haven't heard, Jonathan Drew himself will be the keynote speaker at Tobacco Plus Expo (TPE) next year [read the announcement here] and will obviously have a lot to talk about in terms of entrepreneurship and innovation, something he and his team at Drew Estate demonstrated they know a lot about with their releases at this year's IPCPR. Here's one little teaser of something to come next year from Drew Estate:
For all the latest news from Drew Estate, visit drewestate.com.
– Story, photos and videos by Antoine Reid