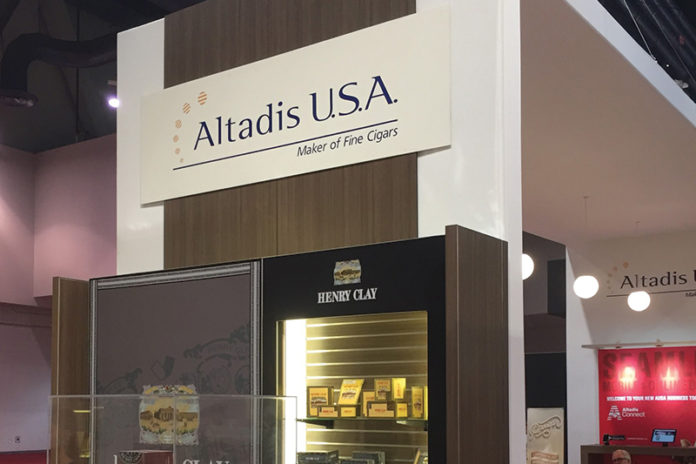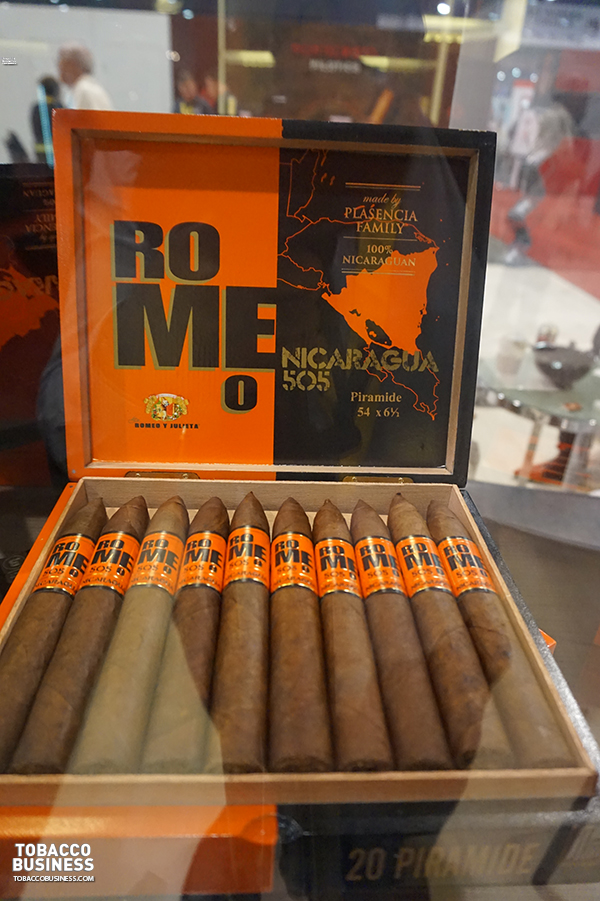 Altadis USA is one of those must-attend booths at IPCPR each year and this year was no exception. There were so many new products and news about its various brands and projects that the company produced a handy and lengthy booklet promoting them all for retailers and media groups like us who would surely need this handy source to recall everything.
Walking around the show floor this year, we've been tracking and making a list of recurring themes and trends. One of those themes that we've seen throughout the show and in various companies this year has been collaboration. AJ Fernandez has an impressive three cigars within the Altadis booth and brands that he's played a big role in. With Boutique Blends and Rafael Nodal joining forces with Altadis earlier this year, one can only speculate if there's a bigger role for AJ and his brands within the Altadis family in the future.
Altadis, similar to Davidoff, is an established company that over the years has tweaked its marketing in order to give each of its brands their own feel and character. You have the more traditional Grupo de Maestro releases with their aged look and then the edgier, hip, youthful treatment given to Gispert and Romeo. These are all great smokes to begin with but each having their own personality helps them to not only stand out but makes Altadis' premium cigars pair up well with the personality of its diverse consumers. With all that's changing due to the FDA, this is a great move that will help Altadis remain competitive and relevant in today's marketplace.
Here's a look at Altadis' major new releases at this year's IPCPR Show:
H. Upmann
This brand has been around since the 1800s, created by bankers who gave their new customers cigars. This year, H. Upmann gets a new release, also blended by AJ Fernandez. With AJ being involved, this is being marketed as his own interpretation of the H. Upmann cigar, blended with Nicaraguan tobacco. Of all the releases, this stood out in the booth with its packaging and design which utilizes a teal blue. Certainly on a shelf, this cigar will have no problem standing out and catching the eye of an eager cigar enthusiast. It will be available in three sizes and will be a regular addition to the H. Upmann lineup.
Also available this year is the limited edition H. Upmann Ingot Rose cigar. Only 3,000 boxes of this cigar were produced and plays off the banking theme with the box resembling a bar of gold that you'd find in a bank. It features an aged Cameroon wrapper, Nicaraguan wrapper, with Dominican, Nicaraguan and Peruvian tobacco filler. A note for retailers and consumers who are interested in trivia facts–the original H. Upmann cigars had a Cameroon wrapper, making this new release a true homage to the early days of the brand.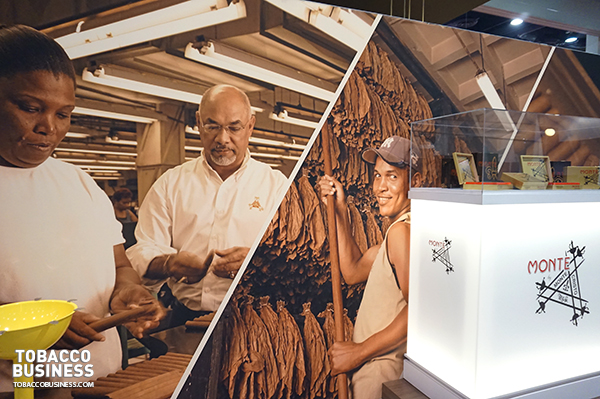 Montecristo
Altadis' Montecristo brand is popular and so much so that the company had several new releases to talk about this year. The lead of those has been the Monte by Montecristo cigar, blended by AJ Fernandez. Monte by Montecristo is available in four sizes: a Toro, Corona, Robusto and Belicoso. It's a box pressed, full-bodied cigar and will be a regular addition to the Montecristo brand.
The Montecristo Espada Estoque is manufactured by the Plasencia family. This is a line extension of the Montecristo brand. Only 25,000 of these cigars have been made and it is a limited edition. It's described as a rich and complex smoke with notes of chocolate and wood. The Montecristo Artisan Series Batch 2 was blended by Candido Rosario, Javier Elmudesi, and Elmer Suarez, three members of the Grupo de Maestros. This will be another limited edition release.
Grupo de Maestros Batch 3
Grupo de Maestros Batch 3 has been aging for years and available in limited quantities. Only 300 boxes containing 100 cigars each was produced. A lot of thought and time had obviously been put into this product as even the packaging, which is reminiscent of an aging room, made these cigars stand out in the booth. These feature a Nicaraguan Habano wrapper, Dominican binder and Nicaraguan, Peruvian and Dominican fillers. Each stick will likely sell for $16.
Romeo
At last year's IPCPR, Altadis lifted the veil on the new Romeo 505, a Nicaraguan pro. The cigar finally hit retail shelves this past January and is made by the Plasencias. It uses tobaccos from various Nicaraguan regions and was said to be selling well in tobacconists today.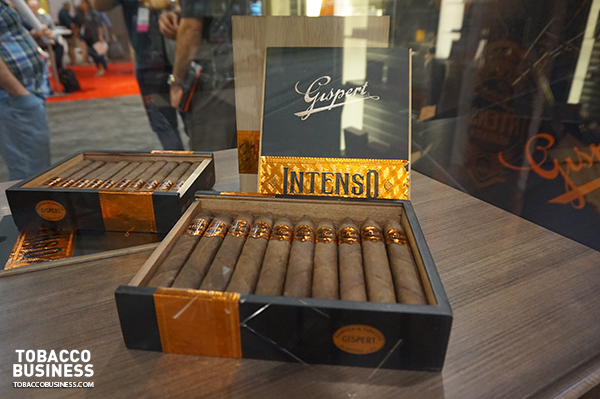 Gispert
One thing that stood out in the booth was how Gispert Intenso's marketing was more youthful and edgy than the more traditional Altars brands. With a guy working on a motorcycle plastered on the wall behind the cigar in its display case, this visually grabbed our attention during our walk through. These cigars are full flavored with a lot of body to them. It's yet another AJ Fernandez collaboration with an MSRP in the $6-$7 range.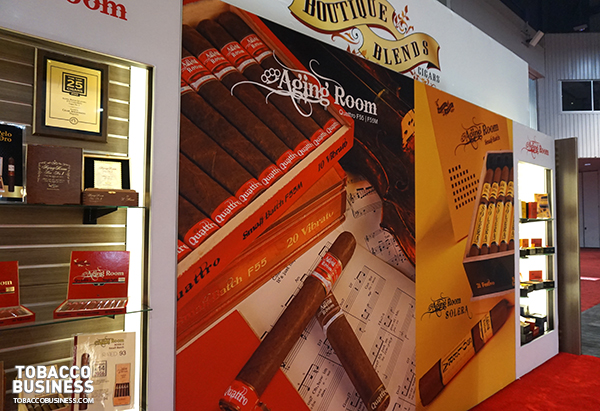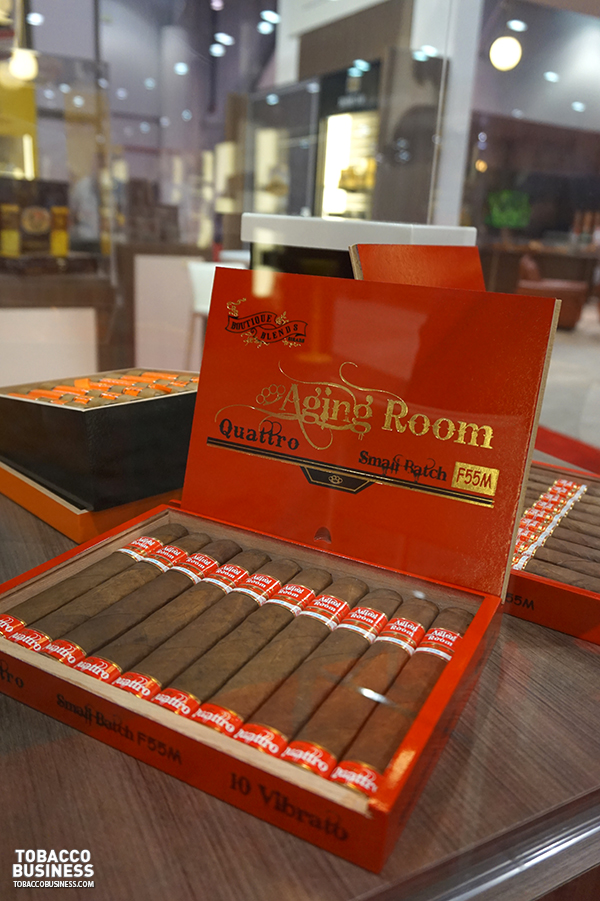 Boutique Blends
It was revealed earlier this year that Boutique Blends would be distributed by Altadis USA and this year we saw them have quite a bit of presence within the Altadis booth. Rafael Nodal, Boutique Blend's owner, also was present within the Altadis booth, doing what he does best–promoting his cigars.
This year, Boutique Blends featured its latest release, the Aging Room Quattro. It's a follow up to the F55 cigar released back in 2013. It's the same blend but uses a San Andres Maduro wrapper that's been aged for 7-8 years.
For all the latest news from Altadis USA, visit altadisusa.com.
– Story and photos by Antoine Reid