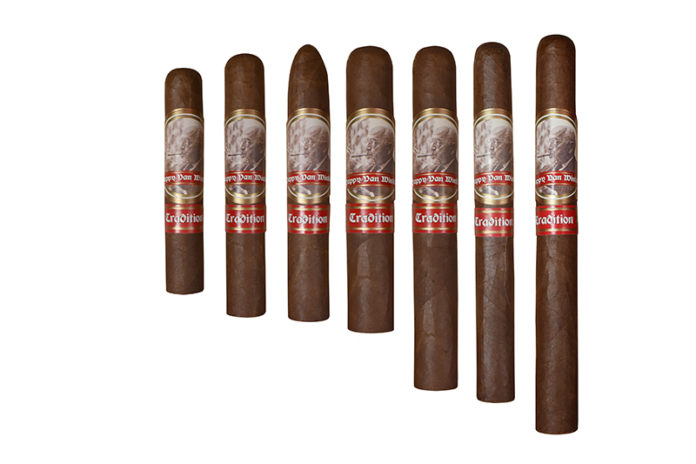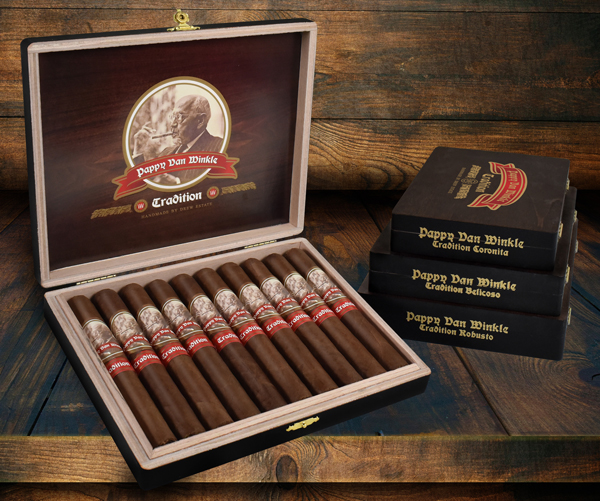 Drew Estate is releasing Pappy Van Winkle Tradition exclusively to its Drew Diplomat Retailers. This will be a limited release brand and on display at Drew Estate's booth at this year's International Premium Cigar & Pipe Retailer (IPCPR) convention and international trade show in Las Vegas July 10-14, 2017.
Pappy Van Winkle Tradition from Drew Estate is considered to be an ultra-premium cigar that honors the legacy of Julian Van Winkle. The Pappy Van Winkle tradition features an Ecuadorian Oscuro wrapper, Indonesian binder and aged fillers from Nicaragua and the Dominican Republic. It will be available in seven different vitolas:
Coronita (4 x 46) MSRP $146.00/10-count Box
Robusto Grande (5.5 x 54) MSRP $216.00/10-count Box
Toro (6 x 50) MSRP $236.00/10-count Box
Belicoso Fino (5 x 50) MSRP $246.00/10-count Box
Churchill (7 x 48) MSRP $236.00 / 10-count Box Exclusively available at Drew Diplomat Spirits Retailers
Lonsdale (6.5 x 44) (Not for Sale) / 10-count Box Exclusively at Drew Diplomat Rewards Events in October, November and December 2017
Corona (5.5 x 44) MSRP (Not for Sale) / 10-count Box Exclusively available from Jonathan Drew and Julian Van Winkle
"The Pappy Van Winkle Tradition features an ultra-complex combination of extensively aged fillers from Nicaragua and the Dominican Republic that are blanketed with a flawless Ecuadorian Habano Oscuro wrapper," Jonathan Drew, President and Founder of Drew Estate, explained. "Availability is limited. I am humbled to extend the Drew and Van Winkle friendship, time tested honor, and craftsmanship to Drew Diplomat Humidors across the United States."
Julian Van Winkle, President of Old Rip Van Winkle Distillery, added: "I was invited to Cigar Aficionado's A Night to Remember by Jonathan Drew in 2016 and was presented with a non-banded, wooden box of cigars with white bands on it that just read "Exclusively for my Friend Julian by Willy Herrera Sincerely Jonathan Drew". I loved this blend because of its balance. Shortly thereafter, my family and I visited La Gran Fabrica Drew Estate in Nicaragua and I smoked the same blend most of the trip. By the end, I knew this would be the Pappy Van Winkle Tradition."
The blend was developed by Willy Herrera before he was officially named as Drew Estate's Master Blender. "I remember it like yesterday," Herrera recalls. "In 2010 when JD and I talked about me joining Drew Estate, we flew down to La Gran Fabrica to test my blending style in two days of non-stop creating. I ultimately produced 3 blends, one of which eventually became the Herrera Estelí. When I heard the news that Julian Van Winkle had selected one of my three original blends from my first trip to Nicaragua, I was humbled to say the least."
The Pappy Van Winkle "Tradition" will begin shipping in October in coordination with Old Rip Van Winkle's annual release of its sought after Bourbon and Rye.
For all the latest news from Drew Estate, visit drewestate.com. For information on the Drew Diplomat program, visit drewdiplomat.com.