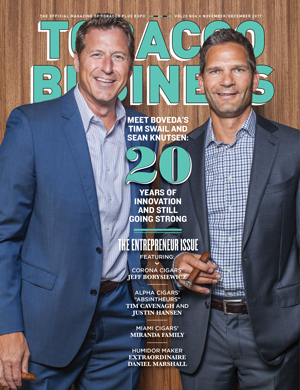 NOVEMBER/DECEMBER 2017
[View This Issue Online]
COVER STORY
Boveda: Back to One
After 20 years in business, Boveda looks ahead to a new era of innovation and opportunity while sharing with other entrepreneurs their blueprint of success.
FEATURES
NATO & TPE: Together Again
In January 2018, the industry will have two big reasons to gather in Las Vegas: an educational seminar by the National Association for Tobacco Outlets (NATO) and the nation's largest tobacco industry trade show.
Hustle & Grow
The Miranda family's Miami Cigar & Co. is the story of a family's vision of a better life filled with opportunity and success—and serves as a lesson on how you can get the most out of your own life.
The Perks of Being Exclusively Different
Warped Cigars' Kyle Gellis, one of the cigar industry's youngest brand owners, shares his theories on how other entrepreneurs can find success by being different.
The Invention of Luxury
For over 145 years, S.T. Dupont, a French luxury accessories manufacturer, has continued to create memorable pieces and experiences for the world's aficionados while never forgetting the value found in the details.
Corona Cigars: Supersizing Cigar Retail
Jeff Borysiewicz shares his experience turning a sideline business into a thriving retail chain.
Members Only
Is a private cigar club and lounge for your retail store the right move? Three tobacconists weigh in on this potential new revenue source.
The Hurricane Factor
Dealing with "acts of God" is par for the course when you're a Florida-based cigar manufacturer with crops in the tropics.
PIPES/OTP/RYO
Pipe Smokers: The Next Generation
How the Internet is disrupting the pipe world and bringing new life to one of the tobacco industry's oldest hobbies.
TOBACCO
Is the FDA on the Brink of True Harm Reduction? New signs point to maybe.
ACCESSORIES
Clear the Air
Want to rid your business of the smell of smoke and other odors? LightningAir may be the solution.
VAPOR
Electric Alley: Vapor Thumbs Up/Thumbs Down
It's yay and nay at the same time.
ALTERNATIVE
Cannadips: A Snus-Inspired Solution
Launched with a phone call, this growing company is making waves in the cannabis space.
SPIRITS
It Takes Two
Want to learn how to apply grass-roots marketing to build a following for your tobacco products? Alpha Cigar Company's Tim Cavenagh and Justin Hansen tell you how they did it with their absinthe-infused cigars.
DEPARTMENTS
Publisher's Letter
In the Field
Royal Agio USA's Jaime Flórez-Estrada
Legal Matters
Sampling Do's and Don'ts
CRA Corner
The Commissioner of the FDA has Called this "Stogie-gate"
NATO News
2017 Tobacco Legislative Roundup
Sound Advice
Humidors with Daniel Marshall
ON The Cover:
Tim Swail and Sean Knutsen of Boveda, Inc.. Photo by Colin Michael Simmons.
Never miss an issue of Tobacco Business magazine. Click here to subscribe.
Click here to view past issues of Tobacco Business magazine.