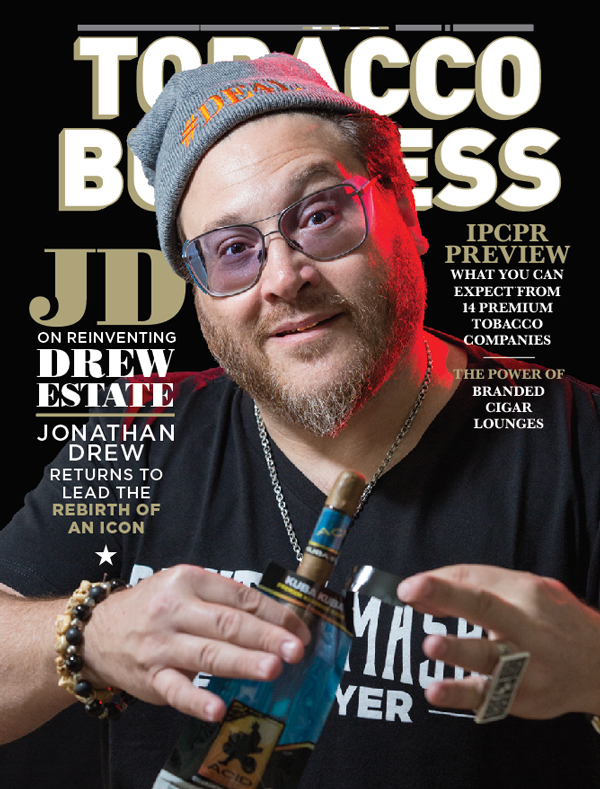 JULY/AUGUST 2017
[View This Issue Online]
COVER STORY
JD on Reinventing Drew Estate
Jonathan Drew returns to lead the rebirth of an icon.
FEATURES
IPCPR Peek-a-Booth
Take a sneak peek at a few show floor highlights.
Lighting Up in Vegas
Heading to Las Vegas for the IPCPR show? You'll want to check out these four standout cigar lounges and bars.
Pipes Unlimited
Scandinavian Tobacco Group Lane Ltd.'s use of research and data helps the company sell products in tobacco categories that are in a state of decline. That same data can help your retail business prosper in today's business landscape.
General Cigar's Macanudo: The Evolution of an Icon
How passion and commitment to consistency helped create a legacy brand.
Investing in Innovation
Davidoff of Geneva North America provides a preview of what retailers can expect from them at this year's IPCPR show, as well as steps the company is taking to reaffirm its commitment to its retail partners in the age of FDA regulations.
Plasencia Cigar: The Soul of the Tobacco Industry
After five generations of growing great tobacco and making iconic cigars, the Plasencia family enters a new chapter with the launch of its own brand.
A Premium Partner
Santa Clara's offering of premium cigars and proprietary brands makes it a strong partner for wholesalers and tobacconists in the U.S.
Avanti: An American Dream
Avanti Cigar Company strives to provide the market with premium products at affordable prices that maintain the company's Italian roots.
JM Tobacco: 20 Years & Going Strong
After celebrating his 20th year in the cigar business, Anto Mahroukian is gearing up for grandfathered-in growth.
Retail Cigar Lounges: Selling Safe Havens
To evolve by branding or not? Three lounge operators share how they approached that pivotal question.
Klafter's: Adapting to Thrive
Founded in 1897, Klafter's is still going strong, thanks to next-generation leadership committed to building on a family-business foundation.
Electric Alley: Vapor Laws Go "Whac-A-Mole"
Local legislation continues at a fast clip.
Vapor Views
Vapers seek convenience and flavor, according to a new survey of the vapor market.
Maker's Mark: The Value of Heritage Brands
Whether in cigars or spirits, heritage brands have the power to sell themselves—but they're even more powerful when you give them a push.
DEPARTMENTS
Publisher's Letter
In the Field
IPCPR's Mark Pursell: Beyond the Show
Legal Matters
What You Need to Know About Federal Regulation
NATO News
California Tobacco Flavor Bans
CRA Corner
Florida, the Courts and a New Dynamic in Washington
Sound Advice
Kristoff Cigars's Glen Case
ON The Cover:
Jonathan Drew, President of Drew Estate. Photo by Candace West.
Never miss an issue of Tobacco Business magazine. Click here to subscribe.
Click here to view past issues of Tobacco Business magazine.