MAY/JUNE 2018
[View This Issue Online]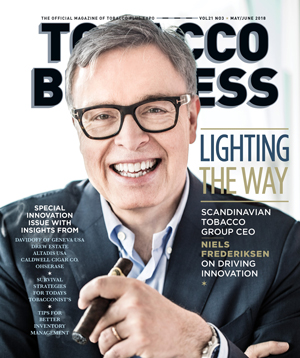 Pub Letter
Inspiring Innovation
STARTUP
The Problem Solvers
Think sales is just about selling a product? Think again. Kristoff Cigars' Jarrid Trudeau offers his tips for discovering what your customers really want and how you can get the most out of your company's sales team.
In the Field: A Trade Approach
Altadis U.S.A.'s Oliver Hyams reveals how developing unique trade programs and leveraging new media can give your marketing a much-needed boost.
Rethinking Innovation
Before tobacco businesses can claim to be innovative, they must first broaden their definition and understanding of one of the industry's favorite—and most misunderstood—words.
COVER STORY
Lighting the Way
Devoted to making great moments happen for cigar lovers, Scandinavian Tobacco Group CEO Niels Frederiksen shares his approach to driving innovation.
OTP/RYO
Freedom Fighters
NicoGen Pharma Solutions' Rogue product line provides consumers with the freedom to enjoy nicotine when and where they want—and gives the tobacco industry an example of how to innovate in a world of regulations and restrictions.
PREMIUM CIGARS
Case Study: Greater Expectations
Robert Caldwell's entrepreneurial drive has taken him from enthusiast to brand owner. Now he's revealing how ambition, creativity and innovation helped him and his company reach unexpected levels of success.
Who's the Boss
Davidoff's Dylan Austin reveals how having a purpose can drive innovation and improve leadership
Royal Agio's Premium Focus
Panter and Mehari's premium cigarillos offer consumers and retailers alike a premium  tobacco experience.
Celebrating Dominican Cigars
The Procigar Festival entered its second decade with a weeklong cigar party.
VAPOR
Driven by Innovation
Fueled by new offerings, demand for vapor and e-cigarette products continues to grow.
ALTERNATIVE
Cannabis' Cash Concerns
Sure, there's money to be made in the burgeoning marijuana industry. But how will you bank it?
RETAIL
Living the Dream
Lots of tobacco shop customers muse about what it would be like to run their favorite cigar haunts. Thirty-eight years ago, Gary and Barbara Kolesaire decided to find out.
The Ins and Outs of Inventory Management
Discover how better inventory control can improve your profits.
LEGAL
NATO News
The FDA's proposed rule for smokeless tobacco
IPCPR Insights
What do the three proposed rules issued for tobacco products mean for premium cigars and the tobacco industry? The IPCPR explains.
CRA Corner
How the premium cigar industry is working to tell its unique story.
The FDA vs. Innovation
It's a case of the government not only taking on businesses but also attacking the one thing that has united tobacco manufacturers, retailers and consumers: innovation.
Moving Forward with the FDA
Gottlieb's plan on the future regulation of tobacco products begins to take shape.
Sound Advice: Storytellers
A team of cigar-smoking commercial filmmakers set out to make their first documentary about the cigar industry. Learn how they took on a new genre in hopes of telling a story that hadn't been told before—and what they discovered along the way.
Never miss an issue of Tobacco Business magazine. Click here to subscribe.
Click here to view past issues of Tobacco Business magazine.